The reason I've run 32 marathons
I started running around the time my dad was diagnosed with terminal lung cancer. I used to go for a run then go to visit Dad in the hospice. Since Dad's death, I've run 32 marathons for Marie Curie.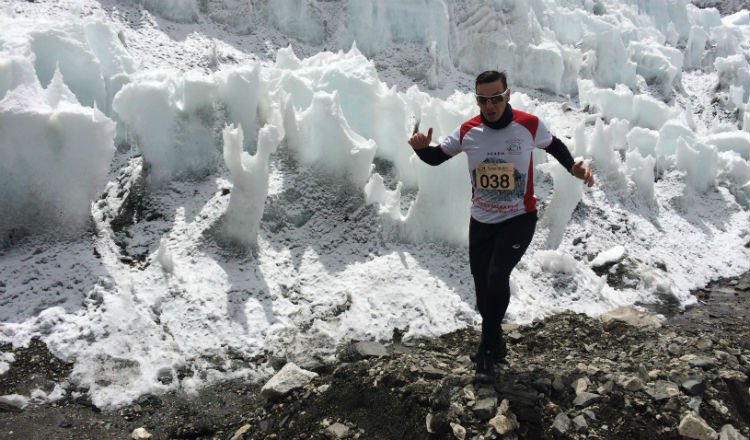 RUNNING: The Tenzing Hilary Marathon is the world's highest marathon with brutal, jagged rock face terrain. The air was 50% thinner than normal as it's so high up. Nothing could have prepared me for it.
Looked after by the angels
I'm the youngest of ten kids. Mum was a housewife and Dad worked on the railways.
Dad was diagnosed with terminal lung cancer in 1995. He never let it get to him. Even when he was ill, he still took Keats (our Doberman who I named after the poet) out twice most days.
He died on 24 March 1997 having his final days at home after being cared for by the Marie Curie Hospice, Liverpool.
The care he got was incredible. He was looked after by the angels. What inspired me was how dignified the end of his life was.
My mum was so kind. She really believed in Marie Curie. She helped us to fundraise and donated every month too. She was just so grateful and appreciative of the care Dad received.
My mum died from breast cancer on 22 September 2006. She stayed at home as much as she could during her illness. The family looked after her and she got care from Marie Curie nurses too.
Immeasurable gratitude led to lots of running
The gratitude my family have for Marie Curie is immeasurable.
Around the time of my dad's death, I decided that I'd run a marathon every year to raise money for Marie Curie.
I've run 32 marathons since then.
The first one was in New York and my most recent one was the Tenzing Hilary Marathon which took place on Mount Everest.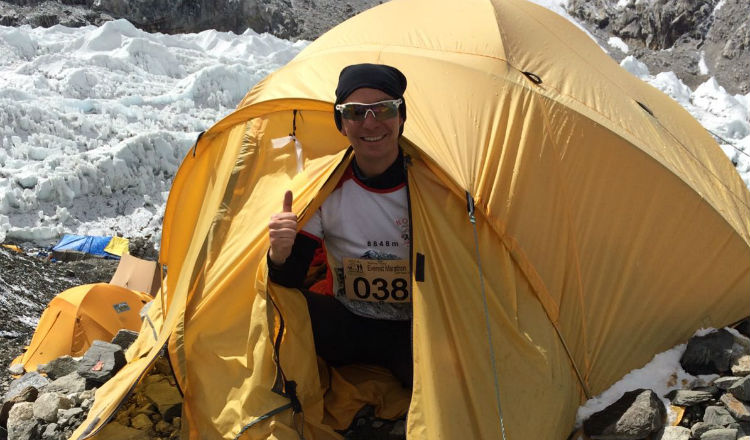 ACCLIMATISING: Before completing a marathon on Mount Everest, I trekked for 11 days and spend two nights in a tent on a two mile deep block of ice.
I'm motivated by doing something for others. The more you give the better you feel. The giver is the receiver, I truly believe that.
I've had some incredible experiences when running
I've met so many characters. In Lisbon I met a guy who'd run 600 marathons. And in 2005 in Cuba there was a runner who wasn't wearing trainers.
In the end, I gave him mine!
Maybe he was just really ahead of his time, barefoot running is a bit of a thing now.
In Bangkok I ran a marathon that started at 3am, as it's so hot over there. The Chief Medical Officer for the whole of Bangkok started chatting to me and, well, we really hit it off. He said "come with me" and took me into the VIP tent where I ended up meeting the Deputy Prime Minister of Thailand.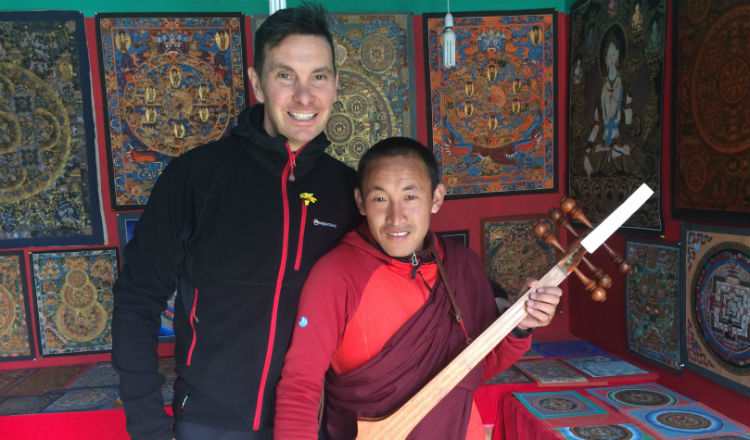 MEETING PEOPLE: On our trek to the Everest Base Camp in Nepal, at Tengboche Monastery I met a Buddhist Monk.
I was running the Auckland Marathon in 2015 when the All Blacks won the Rugby World Cup. The atmosphere was incredible; the crowds were celebrating and giving out pints of Guinness to us runners.
Raising funds for a day of hospice care
I've been fundraising alongside my friends Roger and Ray, with support from my daughter Alexandra, partner Emma and sister Barbara. One way we fundraised was by racing a Liverpool tour bus around the city each Sunday, with a collecting tin in my hand.
We want to raise £6,397 which is how much it costs for Marie Curie Hospice, Liverpool to run for a day. The day we'd like to pay for is 11 April which would have been my mum's birthday.
I couldn't have given her a greater gift; it would have made her proud.
---
The Tenzing Hilary Marathon was tough, but if anyone wanted to run it for Marie Curie I'd do it again with them. If you're interested, get in touch.
If you'd like read more you can visit our JustGiving page.