After the Queen's Speech: What next for people living with a terminal illness?
by Scott Sinclair Head of Policy & Public Affairs, England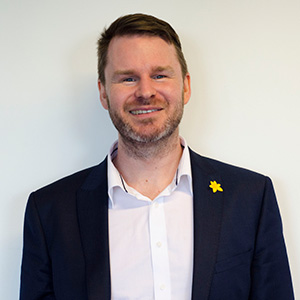 At the start of May, many pollsters expected that we would now find ourselves with a new coalition government or perhaps even still watching the main UK political parties struggle to form a working coalition. The Conservative's win at the election means that, for the first time in five years, a single party has a mandate to implement their manifesto promises in full and in today's Queen's Speech, the Prime Minister has set out his legislative priorities for the coming year. Unsurprisingly, there was little in the way of changes for health and social care. The 2010-2015 Parliament saw a massive reform of the NHS through the Health and Social Care Act and huge changes to social care through the Care Act. The Government likely wants the NHS to now focus on achieving the £23bn in efficiency savings it needs to make by 2020 and to use the £8bn of extra funding pledged by the Prime Minister in the run up to the election to work towards the priorities set out in the Five Year Forward View.
The current picture
But the lack of radical change does not mean that all is well in the current system for people who have a terminal illness and their families. A report we commissioned from the LSE showed that each year 110,000 people who have a terminal illness in the UK do not get the care and support that they need. When we asked people who had cared for someone who had a terminal illness, 7 out of 10 of them said that they felt that people with terminal illness do not get all the care and support they need. And, of course, everyone will have seen the very sad and harrowing stories from the Parliamentary and Health Service Ombudsman's report Dying without Dignity, which demonstrated just how badly poor care can impact on people with a terminal illness and their families. While there might be no new health and social care legislation this year, the NHS still needs to be thinking radically about how to improve care for people with a terminal illness and their families. If there is a 'business as usual' approach, then we will only see more cases of people failing to get the care they need, not least because the number of deaths per year are expected to rise and, with the NHS already under pressure, there is the potential for more people to miss out on care they need.
How you can help
At Marie Curie we are actively campaigning for change, but we need your help. We are currently enlisting people to help us campaign for change to improve the situation for people living with a terminal illness. All you need to do is click on the link, provide us with your contact details and click submit. It takes just two minutes and is really easy to do. Alternatively, you can email us for more information. Within a few weeks, we will ask everyone who has signed up to email their MP and ask for their help in improving care for people with a terminal illness. So often, MPs say to us that they need to hear from local people before they can take action on an issue – so your voice is critically important. We hope that the more MPs get your emails, the more of them will want to support our work and call on the Government to improve care and support for people with a terminal illness and their families across the UK. Please do sign up and work with us over the coming months to change the conversation about terminal illness and make it a real priority for the new Government.