Amy Beth Ellice's top five tea party tips
by Amy Beth Ellice Baker and author Amy Beth Ellice started baking at three years old. Now 17, and with one cookbook already published, Amy is getting involved in this year's Blooming Great Tea Party and has already contributed a lovely fondant fancies recipe to our tea party celebrity recipe page . Here she offers her top tips for throwing a tea party. If Amy has inspired you to get baking, why not sign up to host your own tea party ?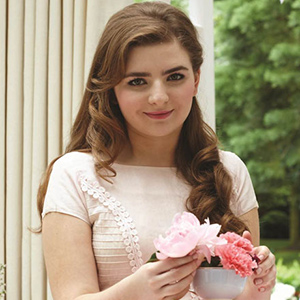 1. Preparing and hosting an afternoon tea party for my friends and family is one of my favourite things to do. You can make your tea parties even more special by collecting a pretty range of tea cups and china to use on those special occasions. You can pick up good vintage tea sets from charity shops. I quite like it when they don't match. 2. An afternoon tea party is a perfect way to celebrate any occasion, whether you're making tea for two or hosting a tea party for all of your friends. It's important to prepare all the food before your guests arrive, meaning that the only thing left to serve is the tea, leaving plenty of time to relax with your guests. 3. You will need a teapot, cups and saucers in order to serve tea to your guests. Buy a tea strainer and use a small dish to collect used tea leaves. Make sure you have enough small plates, napkins and utensils to serve your food. 4. Cover a large table with a white linen tablecloth. Place the tea at one end of the table and make sure to leave plenty of room for yourself. As the host, you will be serving the guests their tea. Place the milk and sugar next to the tea, and the rest of the food at the other end of the table. It's normal at tea parties for the guests to help themselves to food. 5. A tiered cake stand makes a lovely centre piece to display your dainty finger sandwiches and sweet treats. In addition to small, dainty cakes and pastries, it's nice to also have a cake to slice such as a loaf cake or a simple Victoria sponge. Sign up to throw a tea party and get your free fundraising pack full of tea party treats.