Reading inspiration for the Big Readcycle
During the Summer we launched the Big Readcycle, a partnership with WHSmith that encouraged people to donate second-hand books to be sold in Marie Curie Shops.
Thanks to the huge generosity of WHSmith customers, we've got tens of thousands of great books, more than we've ever had before, all available at our charity shops across the country.
And, in case you need some reading inspiration, we asked some of our Marie Curie staff to tell us what their favourite book is and a little bit about it.
Lily Somerville, Senior Innovation Manager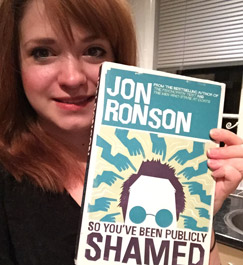 What is your favourite book?
You've Been Publicly Shamed by Jon Ronson
What did you love most about it?
I couldn't choose a favourite! This was the last book I read when I was on holiday. It follows stories from people who have been publicly 'outed' for doing something wrong. It explores the 'thing' they did, how it came to come to light, the public reaction and how or why the fallout can affect some people more than others longer-term.
It sounds quite dry, because I'm not explaining it very well, but it was really good! I love reading stories about real life. There were lots of different people from different walks of life throughout the book and it was really interesting to see all the differences between them.
Some stories continued to be referenced throughout the book and others were really short and contained. It was also very easy to read and easy to follow, which is a nice bonus.
Where is your favourite place to enjoy a good read?
I like reading on the sofa on a Sunday with a cup of coffee. I try to read on the tube in the morning but it's just too loud and I'm too easily distracted!
Sonia Chandsure, Marketing Manager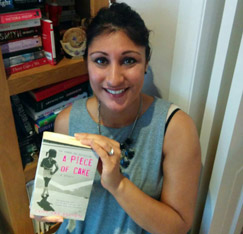 What is your favourite book?
A Piece of Cake by Cupcake Brown.
What do you love about it?
Just looking at the cover moves me. This is the real life story of how a young woman left her abusive family, moved from one forster family to another but didn't let her circumstances hold her back or determine her future.
Cupcake Brown grew up to became a leading human rights lawyer providing protection for other children brought up in care.Her life story is inspiring, it will make you cry, it will make you laugh and most of all leave you with a sense that your past doesn't shape your future – you can be and do anything when you put your mind to it.
Where is your favourite place to enjoy a good read?
On the train.
Frank Harkin, Digital Editor and Producer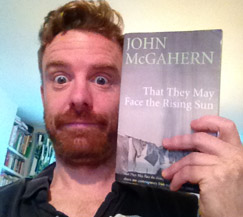 What is your favourite book?
That They May Face the Rising Sun by John McGahern.
What do you love about it?
It's about an Irishman who returns with his wife to the village he grew up in after living in London for many years. It is lyrical and beautifully written and reminds me of home and family.
Where is your favourite place to enjoy a good read?
My local pub on a quiet weekday evening.
There's definitely something for everyone, so come down to our charity shops to find your perfect book.
Every book sold in our 190 Marie Curie Charity Shops will raise vital funds to help care for people living with a terminal illness and their families. If costs £20 to provide an hour of nursing care, so every book we sell will make a real difference.