How Brian is using his experience of terminal illness to help others
Brian Andrews' wife Gillian was cared for by a Marie Curie Nurse. He's using his experience of caring for her to help make the care we provide even better for people like him and Gillian in the future.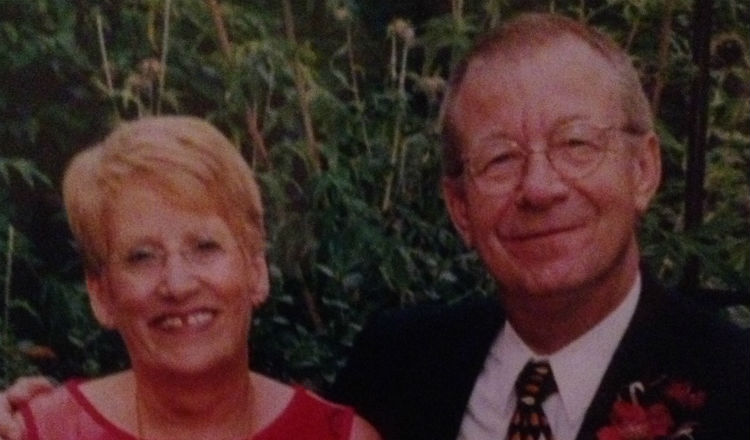 Brian had been caring for Gillian full time and was exhausted. Just 26 days earlier she'd been diagnosed with acute myeloid leukaemia. A Marie Curie Nurse looked after Gillian for the final night of her life, letting Brian get some desperately needed sleep but still allowing him to be with Gillian in her last minutes.
Brian was so moved by the care and compassion of their nurse that he wrote to Marie Curie to express his gratitude.
In Brian's words
Here's what Brian says about that day:
"Gillian crumbled visibly during her last few days. Her organs were failing and this disease was eating her up from the inside. It was very distressing.
"On the final evening, Friday, an angel arrived in the form of a Marie Curie Nurse and she was to take control in such an amazing way. She lovingly looked after the two of us until my wife died, in my arms, at 6:30 the following morning. She continued to look after me until my family and a doctor arrived, simultaneously continuing to tend to Gillian, removing her syringe pump and catheter before finally washing her body.
"She finished by kissing the love of my life goodbye. It was such a profound experience that I very shortly afterwards volunteered to work with Marie Curie and have been doing so ever since."
What he gets out of being part of Expert Voices
Brian has been a member of Marie Curie's Expert Voices Group since its creation four years ago. He has also been volunteering with us for five years, for which he has been awarded the long service badge. Group members advise staff from all over the charity on a huge range of issues making sure the perspective of people living with a terminal illness and carers are at the heart of decisions, as well as acting as ambassadors. Brian says:
"I really love being part of the growing team. I get exposure to other end of life initiatives, representing Marie Curie at NHS and London Ambulance Service work groups. Giving presentations on behalf of Marie Curie, such as at the annual carols service, and helping to recruit senior staff, has been very cathartic. And, thanks to the group, I have involvement in the Pan London End of Life Alliance lay group as chair and have event attended a function at Number 10 hosted by Samantha Cameron."
What the group does for Marie Curie
The Expert Voices Group advises on everything from taking part in hospice inspection visits and giving feedback on leaflets, to taking part in workshops reviewing the charity's website and sitting on the Clinical Governance Trustees Committee.
Right now Marie Curie has over 50 Expert Voices from across the UK, from different age groups and backgrounds. The only thing they have in common is that they've all cared for someone at the end of their life and want to make a difference. In the coming years, we're aiming to have a wider network of members in all four nations. We're also setting up more regional and local groups that we can engage with on specific issues or areas of the charity, such as research and hospice care.
If you're interested in becoming an Expert Voice Group member like Brian, you can contact the Expert Voices team by email expertvoices@mariecurie.org.uk or telephone 020 7599 7273.