"They didn't know how he'd managed to get up – but once he heard the pipes, he was away!"
Tom Coats and his family have been dedicated to raising money for Marie Curie since Tom's mother was cared for by the charity at the end of her life. Their Burns night suppers have raised thousands and created unforgettable moments at the Glasgow hospice.
"My family and I began fundraising after my mother, Cathy, passed away at the old Marie Curie hospice in Glasgow. I remember coming out and seeing this big banner, describing how they needed £16.2 million to build a new hospice. That was when I decided to try and raise some funds to help.
Burns suppers at the hospice
"My wife Anne, my daughter Caysie, and our family have been doing Burns suppers to raise money for Marie Curie for many years. A Burns supper is a celebration of Rabbie Burns; a Scottish poet whose birthday is the 25 January.
"We've held suppers here at the hospice in previous years. We had one a couple of years ago where the kitchen staff made a huge meal for everyone and put on all the haggis, neeps and tatties. We organised a recital with a singer, and brought in a piper to come and play the bagpipes.
"Once he heard the pipes, he was away!"
"There was a particular elderly gentleman being cared for at the hospice at the time who we'd spoken to beforehand. He was a piper himself, and played the uilleann pipes (which are smaller pipes that you don't blow into) and he'd brought his own with him to the hospice. His doctor had told us there was no way he was ever going to be able to get out of bed again, because of his advanced cancer.
"On the day, we were set up at the end of the ward and the patients had come out in their wheelchairs with their families to listen. As I'm reciting, I see the same gentleman pipe player coming out. He was crying, and then he started to play his own bagpipes and singing along. The doctor said afterwards that they didn't know how he had managed to get himself up – but once he heard the pipes, he was away!"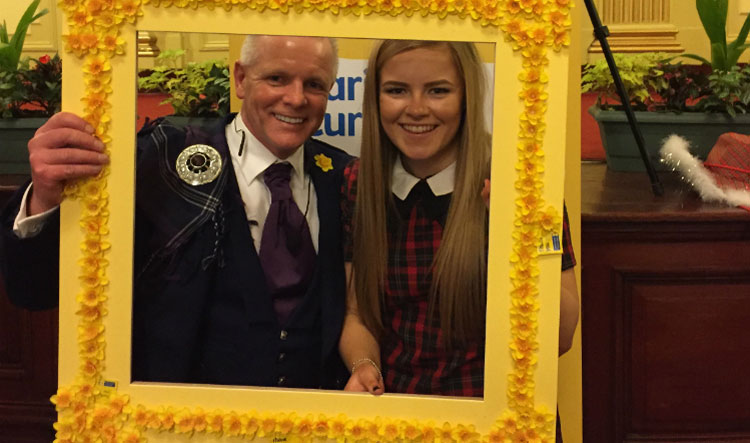 Tom and his family also organise large scale fundraising events in Glasgow for hundreds of guests on Burns night. 21 year old Caysie has been involved in raising money for Marie Curie since she was young, and now helps organise the Burns suppers. "Last year we held it in Glasgow City Chambers. It looked incredible, with guests walking down the big marble staircase into the grand hall.
"It gets really exciting!"
"Everybody comes out in all their finery and they're so willing to give. We also hold an auction; we're very fortunate to have a lot of contacts who donate prizes. We auction off things like signed football shirts. It gets really exciting and people really get the bids up! We raised about £15,000 from that single night.
"We've got loads of stuff going on, with the haggis, recitals and celebrations. Some people might attend because they love Burns, without knowing about what Marie Curie does. They end up learning about the charity and it becomes about education as well."
Find out how you can support our hospices and help people living with a terminal illness get the care and support they need.