Carers need support, someone to see through the fog
During Carers Week we will be running a series of blogs which highlight the challenges of being a carer and explore what's being done to help support people as they care for people living with a terminal illness.
by Anna Douglas
A volunteer for Marie Curie's Expert Voices Group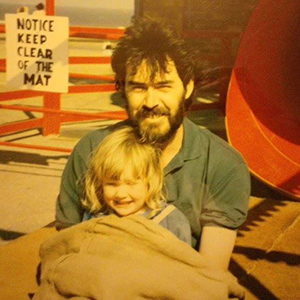 A recent survey we commissioned found that a lack of access to 24/7 care, the management of a loved one's pain and a strain on finances would be people's top concerns if they were to care for a loved one with a terminal illness.
As part of
Carers Week
, Anna Douglas is sharing her story of caring for her father, Alex, who died in the family home in 2011. Here, Anna talks about her experience of these issues.
24/7 care and support
"Access to support around the clock became necessary once Dad's health declined. Things can progress very fast and this was the case with us.
"It seemed to be quite straightforward organising night support but we did not have the best of experiences with the support we received. Dad was experiencing hallucinations and we had a difficult time finding someone appropriate and sensitive enough to deal with this.
"We eventually took over the night care ourselves and had support in the last days from Marie Curie Nurses."
Pain management
"Pain management went hand in hand with access to care and needing that access 24/7. Dad had his own medicine box at home towards the end, as he had a syringe driver put in to deliver his medication.
"We tried to bring a sense of ease by calling the Syringe driver 'Stan' rather than being too clinical about it. Stripping the pain management systems down and personalising them was really important to us because it meant we were in control and Dad's experience was his own.
"When Dad was visibly in pain we had a great deal of support. We found it very quick to get in touch with a duty nurse who came and eased Dad's discomfort. In the interim we did the best we could with other therapies such as massage, singing and one-to-one time.
"I think the system of pain management Dad received was excellent but this was smoother because of the locality of where we were. In more remote areas, or without a good care team in place, it would be the scariest place in the world. Carers need support - it is crucial to try and find sources of support, someone to see through the fog."
Financial strain
"In terms of financial strain, it didn't affect me personally, however, finance was always a background concern. I don't think it became a problem for us but I can imagine it potentially being so for others.
"Access to funds and entitlements is not made especially clear and you have very limited time to research. Clarity and ease of access is essential and this applies to all three topics.
"When your loved one is dying, when it's an incredibly debilitating, isolated and detaching process to witness, it is so important to take care of yourself as a carer. For us this was listening, playing and singing our favourite folk music, and by having Dad's favourite western films on and integrating the care into family life. Time out, fresh air, talking and sharing are so important."
When you are caring for someone who's terminally ill it can be an extremely stressful and busy time. As Anna says, there is little time to research what support is available.
That's why we've compiled a page of information for carers so you can access the advice and support you need, all in one place
.