How can we better support people with the hidden costs of caring?
In the UK, over one million people say they are supporting or caring for family members who have a terminal illness.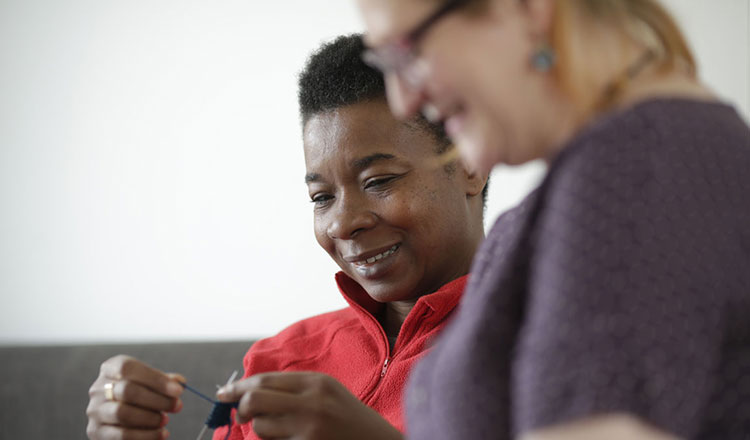 Carers often tell us that supporting someone close to them, so they can live as well as possible until the end of their life, is a privilege and can really bring family and friends together.
However, caring for someone who is very ill can have emotional, physical and financial costs that those providing this care are not given enough support to cope with.
Marie Curie's new report, The hidden costs of caring, looks at what the research tells us about these costs and shares carers' experiences of what it's like to care for a family member when they have a terminal illness. Sadly, we know that, while many people find caring for a loved one at the end of their life a fulfilling and rewarding experience, caring can mean people are more likely to become depressed, lonely and ill themselves.
Carers' needs
Some carers say they feel frightened by the responsibility of caring for a loved one with very complex needs without enough information, and taking on this role can have an impact on their relationship with that person. Some have to give up their jobs, or struggle to balance caring, working and other family commitments. Many of these issues can also carry on after bereavement, when the professional support that was available while the person they were caring for was alive often falls away.
In the coming years, there will be more people living longer with complex conditions who need extra care and support from family and friends. However, the number of people able to take on this sort of unpaid caring role is not predicted to increase with the rise in need.
Filling this unpaid care gap will mean huge costs to the health and social care system unless more is done to enable people to provide care and support without having to take on significant emotional, physical and financial costs themselves.
Support for carers
In our report, we have set out principles which should underpin the support available to all carers of people with a terminal illness. These are fundamental things that we think carers should expect, such as having a proper and timely assessment of their own needs, including their continuing needs after bereavement.
Across the UK, we will continue to work hard to ensure decision-makers, those who plan care and support services, and health and social care professionals are properly aware of these principles and appropriate support systems are in place.
Marie Curie has also co-funded a free online training resource to help people who work with carers support them with end of life care.
Information and support
If you are providing care for someone who has a terminal illness, or you know someone who is and would like to find out how to support them, you can call the Marie Curie Support Line on 0800 090 2309 for free confidential support and practical information on all aspects of terminal illness.
Our website also contains lots of information about being there for someone, and we are continuing to grow our online community as a place to meet others and share your experiences.