It had to be chicken Kiev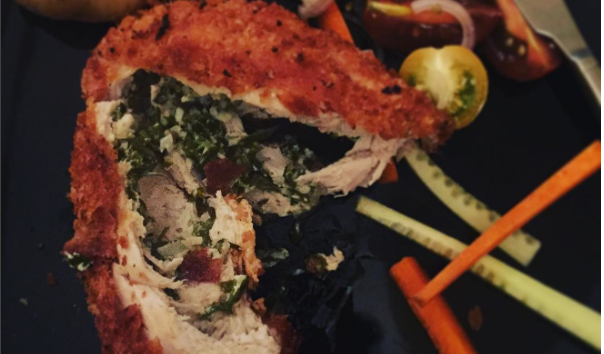 About a year ago I cooked for a dinner party using Marguerite Patten cookbooks from the 1960s and 1970s. It was one of the best dinners I ever held, although not because of the food. That wasn't so successful. Most of the guests survived on the pickled onions and morello cherries that were supposed to be garnishes.
But it was a lot of fun, and when I told my friends about the Marie Curie #retrodinners campaign, we agreed that we should have another retro night. Although, this time, it would be "a nice one. With nice food."
My friend Jennie offered to host and make the main, which had to be chicken Kievs, and a Black Forest gateau for pudding. The rest of us brought sides and starters. I carried a cauliflower cheese across London to her flat. If you've ever wanted to know what it's like to be hated, carry a tub of hot-from-the-oven cauliflower cheese on a packed train. The delicious cheesey side dish that cheers up so many winter nights turns into a sulphurous offensive weapon on public transport. I got a lot of bad looks.
Jordi also opted for a cheese-based contribution. She brought a box of cheese gougères. Crisp little puffs of Gruyère and choux pastry, we ate them alongside a platter of crudités and bowl of blue cheese dip. It turns out dipping warm cheese gougères in cold blue cheese dip is not too much cheese in one mouthful.
We did also eat non-cheese things (although there was a cheese course). The chicken Kievs were huge and bursting with garlic butter that pooled in our plates when we sliced into them. We had boiled potatoes, a suspiciously modern tomato salad and, obviously, cauliflower cheese.
Pudding was amazing. I've never really liked Black Forest gateaux before: they're always too heavy and sweet. Jennie had gone the extra mile and made fatless sponges that were incredibly light. The perfect cushions for all that cream and chocolate.
We rounded the meal off with cheese (always with the cheese) and After Eights. Retro right to the end.