From caring to collecting: Ian's story
Ian Hardie, 67, from Ayrshire, has been helping Marie Curie for an incredible 27 years. He started off caring for people with a terminal illness through the night as a Marie Curie Nurse, and now is a committed fundraiser in his local community. We asked Ian what keeps him motivated.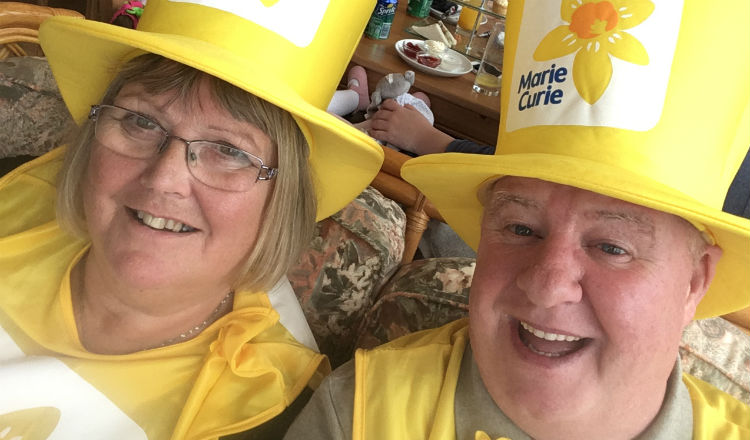 I'm out here for the nurses
I particulary enjoy fundraising because I know where that money is going to. I know it's going to help provide a Marie Curie Nurse to go into the home of someone who is very ill, and that will make a difference. Marie Curie Nurses really need this money - they really need a lot of fundraisers to do the job that they are doing.
Working for Marie Curie helped me see how vital the care they provide is
You would get that phone call asking you to go to someone's house as they needed you that night. Usually your shift started from 10 at night to about seven in the morning. But if the person was very ill I couldn't leave them; I would wait until a doctor or the district nurse would come back. Then I knew my job was finished.
Moving into fundraising was the natural next step
I worked for Marie Curie for five years, until 1995. After that I started fundraising, organising three dances a year for the next 10 years. We raised over £100,000. I didn't realise we could raise that kind of money! Now I'm out collecting for Marie Curie. I really enjoy it. We put the Marie Curie cans and boxes in the shops and every two or three months I go back and replenish them. My favourite place for collecting is the local supermarket because it's a good catchment area. March is the best time of year as that's during the Great Daffodil Appeal.
Being a fundraiser also means being a good listener
People don't just come over and put money in your can, they want to tell you their story too. You do hear some heartbreaking stories.
I think cancer and other terminal illnesses have affected so many people now. So you've got to listen, you've got to be a very good listener.
A smile goes a long way
You can't just go and rattle a can in front of someone; that's not the way! You've got to enjoy your fundraising, which I do. One time me and my wife dressed up all in yellow with Marie Curie daffodil hats, it was so funny! You've got to remember it's not just money for Marie Curie, you are also an ambassador. You're there representing Marie Curie, so you really have to be on the ball.
I'll be out here fundraising for another 27 years if I can!
Aye, I won't stop fundraising for Marie Curie. I love it. It's a great organisation. So I hope my experience will inspire someone else to give it a go.
---
Ian volunteers as a Collection Box Co-ordinator for Marie Curie. This vital role involves making sure there are Marie Curie collection boxes in your community, so more people can donate to support our nurses. Find out how you could help as a Colleciton Box Co-ordinator.
Or, if you just fancy getting out and about and doing a collection near you, sign up to collect for Marie Curie.