A stranger helped me hold things together when Mum was dying
Every time Amanda left the hospital to go home to her family, she was wracked with guilt. How could she leave her mum, Joan, on her own in her final days? Here's how a stranger stepped in to help.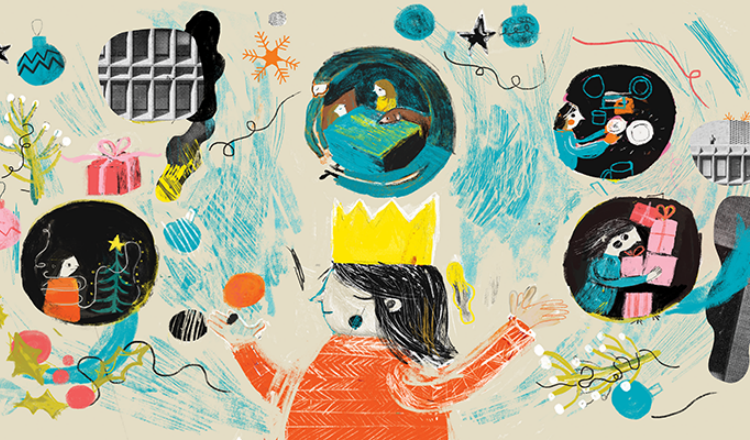 "Out of the blue, Mum had her second stroke six years after the first. We thought, and prepared ourselves for, the worst, but she regained some movement in her arm.
Due to Mum's 'wellness' in the week leading up to Christmas, we were able to arrange some family events and Mum actually saw all of her grandchildren and children, and in good spirits too. Because it looked like the worst was over, and Christmas being an important time for our family, I started making arrangements."
The unexpected phone call
"Three weeks after the smaller stroke, the Sunday before Christmas, Dad phoned to say he thought she'd had a seizure. My husband and I rushed around to help, and soon realised the gravity of the situation.
Mum was awake and alert, but completely unresponsive. Dad had already called an ambulance after speaking to us. Mum was taken to Musgrove Park Hospital later that day."
Being there for her
"On 23 December, the doctor took me, Dad, and my husband into a side room. We knew at this stage that the news was not going to be good.
It appeared that Mum had a severe stroke which had taken everything, she was physically alive but for all intents and purposes she was dead."
Making a decision
"I knew I could sit with Mum, I knew I could talk with her, but because she wasn't conscious and couldn't hear me it was almost surreal. It made the whole situation seem so very heart-wrenching. I wanted to stay with her, but I wanted my family to have a happy Christmas too.
When we went home, it was so hard. I was wracked with guilt that she was there on her own when I wasn't there. My husband said 'you can't keep being there'."
Finding out about the Marie Curie Companions Service
"On Christmas Eve one of the nurses on the ward asked if I'd heard about the Marie Curie Companions service. I hadn't. She explained that they could provide someone to be with Mum when we couldn't be there.
Going home and knowing someone was with her was so reassuring. I went back Christmas Day in the morning and they offered the Companion service for that day too. I went home and did have a family Christmas. The nurses kept in touch throughout the day, and said a Companion had been with her for most of it."
The difference it made
"I got a call at 1am on Boxing Day saying that Mum had passed on. I remember having so much running through my head, but knowing the Companion service had spent that time with her was so valuable. I know she wasn't alone.
It was so special because it was Christmas, and Christmas is a family occasion. Any other time of year I would have been able to spend more time at the hospital. But someone else took time out of their Christmas to be with Mum, so I could have time with my family when I needed their support."
---
Find out more about the Marie Curie Companions service
Illustration by Liv Bargman