Dying Matters Awareness Week: It's good to talk
by Dr Jane Collins and John Powell
Dr Jane Collins is Chief Executive of Marie Curie and John Powell is Director of Adult Social Services at the London Borough of Redbridge. Both are co-chairs of the Pan-London End of Life Alliance. They are lending their support to Dying Matters Awareness Week (18-23 May 2015).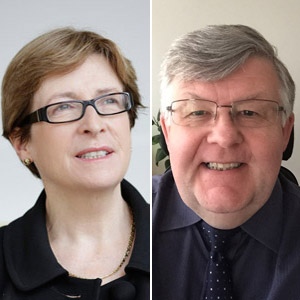 Dying Matters Awareness Week gives everyone the opportunity to step outside their comfort zone and do more to break the last taboo. 
The theme this year is Talk, Plan, Live, emphasising that we only get one chance to have our dying wishes met. Which is why it's vital to talk, plan and make arrangements for the end of life – before it's too late.
It is often said that, as a society, we shy away from talking about death and dying – with the result that not initiating conversations about what people want, expect and understand can create problems for all involved.
Research for Dying Matters has found that many people have specific wishes about how they should be cared for at the end of their lives, or what they would like to happen to them after their death. But a reluctance to discuss these issues makes it much less likely that these will be met.
Lack of conversations and poor communication can also mean that professionals are left unsure about what services to provide. Bereaved families are left asking whether their loved one wanted something different and if they should have done more.
In a recent survey, commissioned by Marie Curie, clinicians said that better communication between professionals and people with a terminal illness and their families is a key priority for improving care.
Encouraging open conversation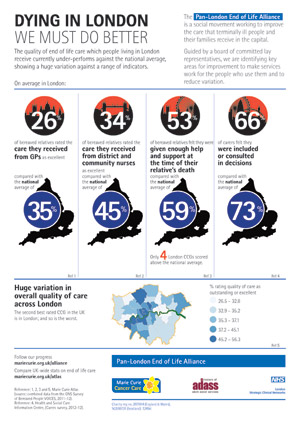 Throughout Dying Matters Week, over 30,000 organisations across England and Wales will be encouraging more open conversations around death, dying and loss. Across London, similar conversations and events will be taking place with members of the Pan-London End of Life Alliance – a social movement of health, social care and voluntary sector organisations working together to improve the care that people with a terminal illness and their families receive in the capital.
As the co-chairs of the Pan-London End of Life Alliance, we know that more work needs to be done to ensure people across London in particular get the care and support they want and need.
For example, on average in London:


53% of bereaved relatives felt they were given enough help and support at the time of their relative's death compared with the national average of 59%


66% of carers felt they were included or consulted in decisions compared with the national average of 73 %


5% more people die in hospital compared with the national average


Get involved
Individual alliance members will be supporting Dying Matters Week in a variety of ways – from running events to ensure more people know about local services and available resources to sending tweets using the hashtag #YODO (You Only Die Once), which proved incredibly popular last year.
But everyone can get involved. Even just having a chat with family, friends or colleagues about the importance of preparing for death will help change perceptions.
The new Marie Curie Support Line, launched in early April, is proving to be a good conversation starter for many people affected by terminal illness. Since it launch on April 8, the Support Line has handled more than 600 calls – showing that, given the chance, people know it's good to talk.


Call the Marie Curie Support Line on 0800 090 2309* (Monday to Friday 9am-5pm)


Visit  the Marie Curie Community to share experiences with people who understand


Access clear, useful information about living with a terminal illness on our website


* Calls from landlines are free, but there may be a charge if you're calling from a mobile. Check with
your mobile provider for details. Calls from any type of phone will be free from 1 July 2015. Your call
may be recorded for quality and training purposes.