Dying without Dignity – a stark reminder of why Marie Curie is campaigning for change
by Dr Jane Collins Chief Executive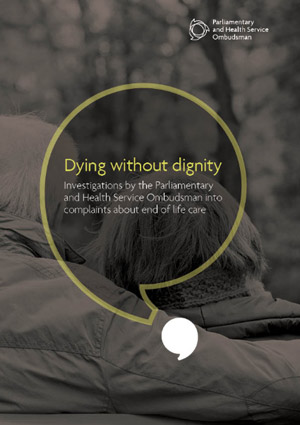 The Parliamentary and Health Service Ombudsman – the body that investigates complaints about the NHS that cannot be resolved at the local level – has today published its first report into complaints about the care that people received at the end of their lives. This report is a stark reminder of how terrible the impact can be on people with a terminal illness and their families when care goes wrong. We cannot shy away from the fact that the stories in this report are often shocking and describe situations which nobody should ever have to face. We should also not make the mistake of thinking that these kinds of cases are extremely rare. Through our work at Marie Curie, we often meet people with a terminal illness and their families that have been badly let down by the health and social care system. After all, 50% of people in the UK die in hospital despite less than 5% of people saying that is where they would want to be at the end of life and many of these people have no clinical need to be in hospital. In England alone, around 92,000 people who need palliative care support each year are not getting this vital care. This suggests that something is fundamentally wrong with our approach as a society to providing care for people with a terminal illness. This isn't to say that the NHS isn't staffed with wonderful people who want the best for their patients – it absolutely is. However, so many health and social care professionals aren't given the right training for communicating with and providing care to people with a terminal illness and families, despite the fact that this is a situation that most of them will encounter. There's also a real lack of specialist palliative care support out there – just over 20% of hospitals in England provide seven day-a-week access to specialist palliative care and that lack of cover just provides too many opportunities for care to go wrong.
Lack of communication
When we look at the stories that the Ombudsman has presented, a lack of communication seems to be at the root of so many of these examples of poor care, whether it is communication between clinicians, between healthcare professionals and patients, or between healthcare professionals and families. Just about every case highlighted seems to start with the absence of a frank discussion about death, about a person's preferences for their care and about how families can support a loved one with a terminal illness. This is a difficult problem for the new Government and one that cannot be fixed quickly. It does require more training for health and social care professionals about how to communicate and provide care to people with a terminal illness. This is especailly important for generalists like GPs and District Nurses who see many people at the end of their lives as well as referring people onto specialist palliative care services. It also certainly requires greater availability of specialist palliative care. People who have a terminal illness can't wait for care during out-of-hours times. What the report from the Ombudsman shows is that this leads to people dying in pain and extreme distress in families. The Government must move to tackle this problem swiftly, however, as by 2040 there are an expected extra 100,000 deaths per year. This means more pressure on the NHS and more chances for care to go wrong unless some radical solutions are put in place now.
Campaigning for change
At Marie Curie we are campaigning for change. We want everyone, no matter their diagnosis or personal circumstances, to get the care and support they need when they have a terminal illness. We have already called on new and returning MPs to work with their CCGs, Trusts and Local Authorities to start improving care services for people with a terminal illness because we really do believe that all of us have a role to play in working towards a health and social care service in which the type of situations described in this powerful report from the Ombudsman simply do not occur.