Green fingers and helping hands: My treasured memories of Dad
Emma Sumner-Wilson lost her father to pancreatic cancer in 2016. She visited Marie Curie's Garden of Light in central London to share her special memories of him.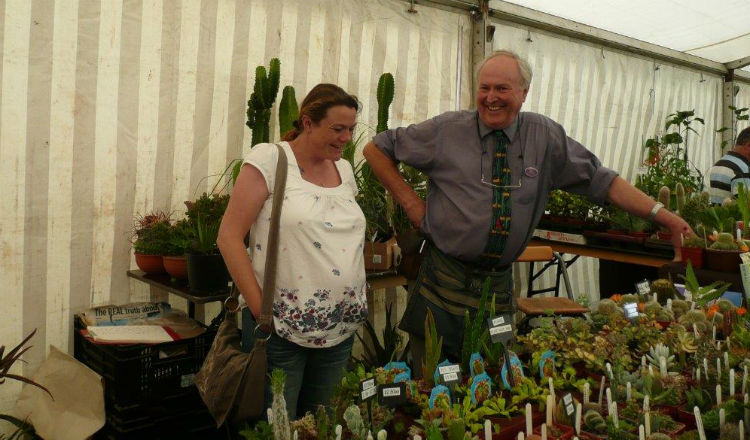 I'll always remember my dad's hands.
They were big – he was a big man, over six feet tall. He worked with his hands, growing plants. He actually gave up a very well-paying job to become a horticulturalist and nursery manager.
I idolised him, and ended up following him into horticulture.
Dad would talk to everyone and everybody. It wasn't uncommon to hear him inviting people in for a cuppa of tea. He loved to chat. You were never bored in his company.
The day you're told your father has pancreatic cancer – your world just goes numb.
We knew something was wrong because he was losing weight and we couldn't understand why.
But the Big C – it was like a bomb had dropped on the whole family.
The reality and shock changed my mother overnight. My dad was in complete denial.
The doctors knew from day one that they couldn't stop the cancer, and that all they could do would be to delay it with chemo. But the chemo gave us hope.
When they said it wasn't helping, it was like pulling a plug and watching the water drain away.
Marie Curie Nurses helped us cope
We had to move Dad's bed downstairs for him as he no longer had the strength to climb the stairs. He had a bell to alert us when he needed help.
Mum was physically unable to do the daily care. We were put in touch with Marie Curie by a Macmillan nurse at the hospital.
Having the Marie Curie Nurses come in made such a difference. They were invaluable in Dad's final weeks.
The nights were the worst. You have so much time to think. But the nurses would sit with my Mum for hours during the night when she really needed them and comfort her.
Watching somebody go through that is heart-breaking. Mum knew what was coming and for her it was the fear of realising that she was going to be on her own.
When someone you love is dying, you have to make difficult decisions
Every weekend we had with Dad was special because it could have been his last. I travelled up to Lincolnshire almost every weekend to be with him.
And then unfortunately the weekend that he passed away I couldn't be with him because I was working.
I had a phone call from my brother to say that they thought that might be it, but I couldn't get there.
It's hard but I live with that. I know Dad would have understood. I always had his backing.
I wanted to do something to remember Dad's love of plants
My husband and I have a plant nursery and with Dad being a nurseryman, we thought it was a fitting tribute to name a plant after him.
It's a new variety of Angel Pelargonium which we hadn't got round to naming. So due to what had happened we decided to call it 'Treasured Memories'.
It's not just a name that's poignant to me because of my father, but to all those who have been touched one way or another by losing someone they love.
We decided that for every sale of this plant we made in 2017 we would donate a percentage towards the charities that helped so much in Dad's final weeks.
I know he'd be pleased we could give something back
Marie Curie Nurses were really there for my mother and just to have that support was so amazing.
We raised over £200 in about six months from sales of 'Treasured Memories', and the family gave a separate donation from money raised at Dad's memorial service.
I'll never stop missing Dad, but whenever I see that particular plant I think of him. He would have been so proud.
Join the Great Daffodil Appeal
Volunteering just two hours means Marie Curie Nurses can be there for more people.
Volunteer to collect