Extreme overseas challenges with Marie Curie
If you're looking for something of a challenge, then you're in the right place. With our Kilimanjaro Trek and London to Paris Cycle ride, we have two of the most epic adventures you're ever going to come across. Here's what it's like to go on one of our challenges.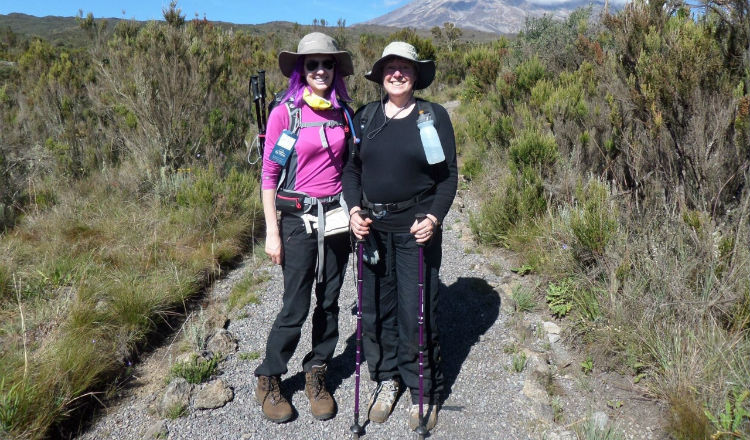 In May 2014, Larna Simpson took on the challenge of a lifetime for Marie Curie and attempted to conquer Kilimanjaro. At 5,895 metres, Kilimanjaro is the highest freestanding mountain in the world and Africa's tallest peak. Larna had never undertaken a challenge like this before, travelling overseas in a group of strangers, trekking up mountains and fundraising thousands of pounds for charity was all new to her, but she was determined to get out of her comfort zone and give it her best.
Meeting up with the Marie Curie group before departure was really reassuring, Larna soon made friends with some of her fellow trekkers and even organised some joint fundraising events with them! She also went along to some of the training days organised by her Marie Curie reps which helped her fitness for the challenge and prepared her for some of the challenges that lay ahead.
Nothing can compare to arriving in Tanzania and stepping foot on the mighty Kilimanjaro, the breath taking views from each campsite and the varying climates, from tropical rainforest to glacial peaks. Larna soon got the bug for adventure travel and as soon as she arrived home, she registered for the Canadian Rockies trek for her local Marie Curie hospice in Newcastle. So far, Larna has raised over £8000 for the charity and had the adventure of a lifetime!
London to Paris, by bike!
Ray Evans took part in the 2014 London to Paris cycle challenge in memory of his wife June who was cared for at the Liverpool Marie Curie hospice. Ray now tirelessly fundraisers for the Liverpool hospice and the work of his local Marie Curie nurses through collections, cycling and collection sponsorship. London to Paris was a special challenge for Ray as it was his 10th overseas cycle for Marie Curie. Ray has braved all conditions over the years from blazing heat in Cambodia to torrential rain storms in the U.S all whilst raising vital funds for the cause closest to his heart.
Despite over ten years of challenges, Ray's still not ready to hang up his cycling shorts and he's currently fundraising and training for his next overseas bike ride for Marie Curie!