Creating mindfulness: top tips from a hospice art tutor
At the Marie Curie Hospice, Bradford, art tutor Steve Davis is helping people attend to their mental health using the power of creativity through a new adult colouring therapy book.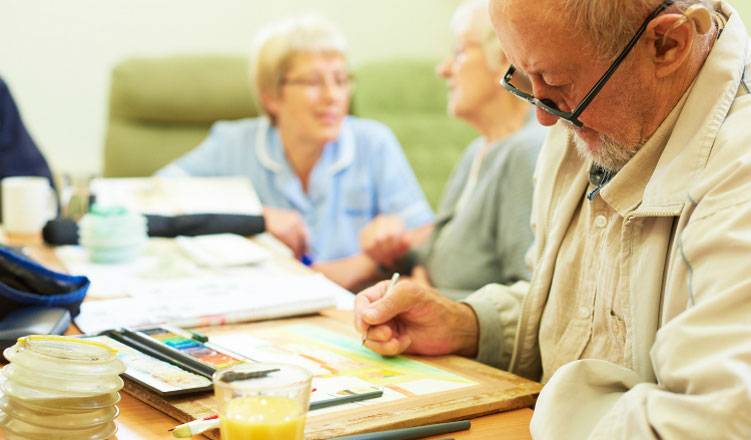 Recently, Steve has designed a series of adult colouring therapy books which have been produced through the hospice. The books are available for people being supported at the hospice to pick up as a distraction and for entertainment, and to help promote mindfulness. Mindfulness is about being fully aware of the present in order to gain a sense of calm, and to help counter feelings of stress or worry.
Whether you're a budding artist or a complete beginner, Steve has some advice for anyone wanting to get inspired and find a sense of peace through creativity.
1. Approach art as a diversion therapy – that's what I encourage the people we support at the hospice to consider. It's not about painting feelings of 'doom and gloom', it's about letting people forget their illness or their troubles for a moment and getting wrapped up in something relaxing.
2. Art is for everyone – it doesn't matter if you've never really had a chance to indulge your artistic sensibilities before. It's true that in the art world there can be quite a lot of snobbery, but being creative is about you and your experience.
3. There are no rules when it comes to colouring! The practise of colouring in patterns and shapes is about living in that particular moment. The sensation of being so in the zone can be very good for you, even if it's just for a few minutes.
4. There's never any need to make negative comparisons about your own or other people's work. Art is a journey; it's about the emotions and the feeling of slipping into another world.
5. Try not to use the 'can't' word when it comes to being creative. It's not that you can't, it's just that you might not have had the experience to enable you to do it yet. You might need someone just to give you a few guidelines to start you off.