How my wartime physio granny inspired me to help people walk again
Following in the footsteps of her grandmother, Mary Hilary, Karen Turner decided she wanted to help people use exercise to improve their health. The hospice physiotherapist reflects on the best bits of her work, and how her granny continues to inspire her.
"My granny was a physiotherapist and treated people at a clinic in central London during the Second World War."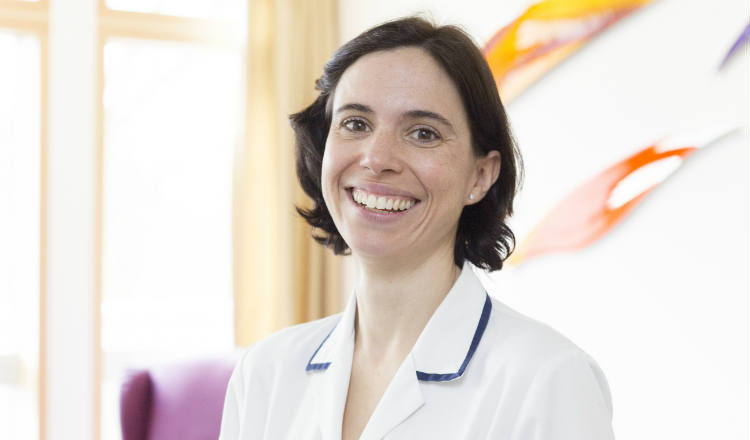 Keeping it in the family
"I decided I wanted to be a physiotherapist when I was 12. I was keen to work in healthcare, and my mum explained how physiotherapists helped people to exercise in water to get better. I loved swimming so I thought that sounded like a great job, and I've never looked back!
"I was young, so I also had a romantic idea of helping people to walk again.
"Granny loved the fact that I became a physio too. When I was doing my training in Cardiff, she lived in Dublin so I used to take the boat to visit her.
"I remember once reciting a rhyme I'd been taught to help remember the muscles around the hip – and she remembered it from her training decades earlier, which was incredible.
"I always admired her, and it was very special for me to be following in her footsteps."
Physiotherapy for people living with terminal illness
"The Marie Curie Hospice, Hampstead was the first hospice in the country to have a gym, and we pioneered rehab for patients. We're giving the most up-to-date evidence-based care, and that's something that I'm proud to be part of.
"Physios like the ones in my team help people to continue to live their lives, despite having a terminal illness.
"It's the simple things you can do to help someone achieve a small goal – like be able to take the bus, or go to a family wedding.
"You might only need to take a few steps to get to the bathroom, but being able to go to the loo on your own– it's a matter of dignity and it makes a huge difference."
The hardest part of being a physio in a hospice
"You do feel helpless sometimes. The reality is that we are working with people who are dying and sometimes you wish you could do more.
"I'm very grateful for the wonderful team of professionals that we work with and we all support each other when things are tough.
"There are happy and sad stories in the same hour. But it's always sad when people die. We're all human and it's especially hard when I can really identify with someone.
"I had one patient who was born on the same day as me, in the same year. He had a young child. That's hard, because you can't help but identify with the person in a different way.
"Some people stay in your memory for years after they have died."
I often think about Granny
"She was an incredible woman and a wonderful mother and grandmother. I was with her a few days before she died, and she was in a lot of pain. Even then, she didn't want to draw attention to herself.
"I wish she'd been looked after by Marie Curie Nurses, but there aren't any where she lives in Dublin.
"She had a very strong yet gentle character. She was always looking out for other people and looking after those who needed support.
"She loved her family and everyone adored her. She was lots of fun, and she was always very well presented. She used to say that you never knew who you would meet when you went out!
"I was very close to her and I'm so grateful she helped me discover and develop my interest in physiotherapy."
Karen Turner leads the team of occupational therapists, physiotherapists, dieticians and therapy assistants at the Marie Curie Hospice, Hampstead. If you're living with a terminal illness, read more about the importance of staying active for physical and mental health.