"I wish we had been able to prepare for the end"
In our new report – Triggers for palliative care – we're calling on health professionals to improve access to palliative care for people with all terminal conditions.
Our report identifies a number of 'triggers' which show when someone could need palliative care. Failing to spot these triggers can mean people miss out on getting the care they need.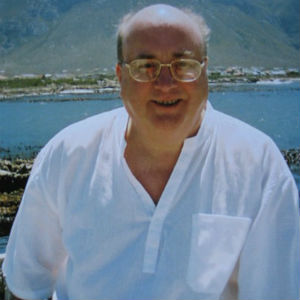 Jayne Lannen's husband, Bernard, was diagnosed with acute liver disease in August 2010. The couple were told he would be put forward for a liver transplant six months later if he followed medical advice.
Jayne says: "We just had to believe he would get a transplant. He had 40% liver function. The consultant said that if Bernard did as he said, he may survive for two years."
More than one disease
One of the triggers for palliative care we've identified is when someone has more than one health condition to manage. This was the case for Bernard, who was diabetic.
In early 2011, several months into treatment for his liver condition, Bernard's toe became infected. After visiting a diabetic clinic, he was admitted to hospital to have his toe amputated.
Jayne says: "When he went in, he wasn't on the list and his notes weren't even there. They said they couldn't operate but gave him a bed on the ward. There was a lack of communication. When he was in hospital, the district nurse was turning up at our house."
In and out of hospital
Bernard's operation went ahead and, after three weeks, he was discharged from hospital. But a week later he became so unwell he was admitted again, this time to intensive care, where he was sedated and put on a ventilator.
Our research shows that other triggers which could prompt doctors to refer people to palliative care are repeated unplanned hospital admissions and when new treatments are introduced. In Bernard's case, these opportunities were missed.
Jayne says: "At that time, the liver consultant said he could be sent for a transplant. But he had blisters on his heels which got infected and they were saying they were going to amputate his legs. They [the different consultants] were fighting about what was the best level of care."
Pain and distress
When Bernard came round from sedation he was in a lot of pain. Jayne says: "It was hard seeing him coming out of sedation and waiting in agony for his next dose of painkillers. I asked, 'Can I take him home?' but was told 'no' because it would take too much organising."
Our report cites problems with pain and distressing physical symptoms as another trigger for a palliative care referral. Thirty-six hours before Bernard died, Jayne finally saw a palliative care nurse; the first and last time she met her.
Bernard died in hospital on 19 February 2011, aged 58. Jayne says their hopes of a transplant meant they had not discussed planning for the end of his life.
"If we had had a care plan, that would have made it more real. It would have been something to have had that option – to say: 'If you get to this stage then what do you want? Do you want to die at home?' But it was never discussed with us.
"I wish there was more communication, and earlier in time, to help us prepare for the end and to discuss his last wishes."
Palliative care can begin at any stage of an illness and can be provided alongside curative treatments. Our research shows that people who have a condition other than cancer often miss out on getting care when they need it. Please join our campaign and ask your local politician to prioritise care for people with all terminal illnesses.