It's OK to ask about research
by Dr Sabine Best
Head of Research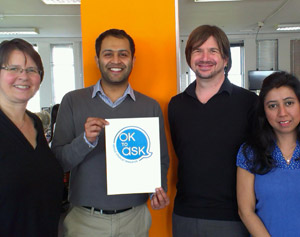 The "OK to ask" campaign takes place each year and is timed to coincide with International Clinical Trials Day on 20 May.  It is aimed at encouraging more people to ask about research opportunities that could be available to them or their loved ones. 
It is a campaign led by the
National Institute for Health Research
, a body funded through the Department of Health and is supported by Marie Curie and many other organisations interested in research.
While the campaign is primarily aimed at encouraging more people to ask about research opportunities, it's also about reminding all healthcare professionals from consultants and GPs to nurses and other professionals, whether research-active or not, to be research-aware.
Committed to research
Research shows that people with a terminal illness and their carers are very happy to participate in research studies if they are carefully designed and conducted sensitively.  As the leading charitable funder of research in the area, we carry out and promote research across our hospices and nursing service, as well as funding three Marie Curie research centres in London, Cardiff and Liverpool, and external research teams at other universities and hospitals.
Currently, we fund 37 external research projects and many more are carried out at our research centres. Our nine hospices are participating in more than 20 research projects. In total, our research activities enabled 1,436 patients, 1,308 carers, 2,018 staff members and 363 members of the public to take part in research studies over the last year.
We could not achieve this important work without the dedication of our own staff and the researchers we fund around the UK, and the patients, families and carers who volunteer to participate.
Working together to improve research
A great example of how we can work together to improve research is through the
Palliative and end of life care Priority Setting Partnership
. During this highly successful 18-month consultation we asked you – patients, carers and health and social care professionals – to tell us your most important unanswered questions for research to address.
In January, we launched a report revealing the
top 10 most important unanswered questions
in palliative and end of life care.  Marie Curie is using these questions to guide which research areas we fund, as will other partners, now and in the future.
That's why Marie Curie is supporting and promoting the fact that it's OK for people to ask about clinical research and for clinicians to be ready to talk to patients and carers about potential research activities.
Read about the Marie Curie research projects
we are funding to improve the care and experiences of people living with a terminal illness, and their families.
Show your support
"OK to ask" is also an opportunity to celebrate the work of all those who help us make research happen. Researchers and staff are being encouraged to take a selfie in support of the campaign and post on Facebook, Instagram or Twitter.
Spread the word and join in with the conversation by using the
#NIHRoktoask
hashtag.
Find out more about the campaign