The inspirational dad who refuses to let MND hold him back
"I might be terminally ill, but my life isn't over just yet," says Jason Liversidge, 42, from East Yorkshire. The dad-of-two shares his inspiring attitude to life, and how he's making memories with his daughters, Lilly and Poppy.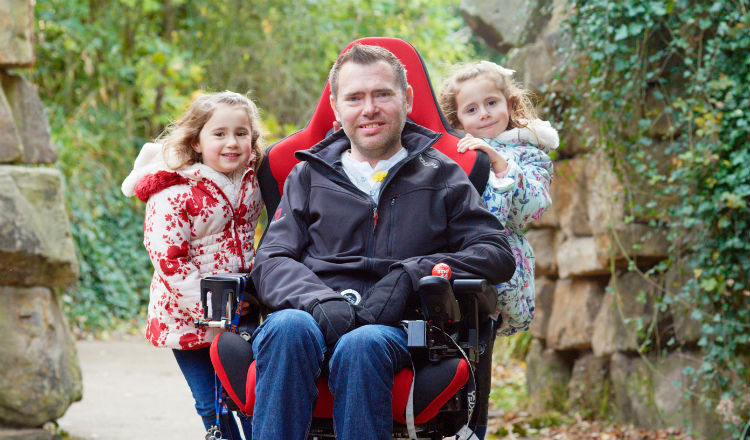 "I could sit there and get frustrated at the fact it is stopping me doing stuff but then I'm going to get frustrated about all of it," says Jason of life with his condition. "I make the most of what I can do."
In 2013, Jason, was diagnosed with motor neurone disease (MND). It's a rare, rapidly progressive terminal illness that damages the nervous system leading to weakness, muscle wasting, severe disability and paralysis.
Since then, Jason's life, and the lives of his wife Liz and daughters Lilly, six, and Poppy, four, have changed dramatically.
The impact of the diagnosis
"After the diagnosis I spent about three days crying," remembers wife Liz. "I've had to give up my job. We've had to adapt our lifestyle, we've had to adapt our house."
"It's weird, because it doesn't really sink in," says Jason, who used to be a social worker. "Here I was, a fit and active bloke who loved skiing, grass tracking, motor biking and fast cars, being told I have MND."
"But I decided the best way to deal with it is to literally just get on with it. At the end of the day, you only live once."
Life is fragile
As the 42-year-old's illness has progressed, he can no longer shower, dress or feed himself. For many people, this loss of control would be too much to bear. But Jason has found another way to look upon his illness.
"Being ill makes you realise how fragile life is," he explains. "MND is killing me and has taken my independence, but while I'm still here, I won't let it break my spirit and determination."
Climbing Mount Snowdon
In July 2017, with Liz by his side, Jason successfully reached the summit of 3,560 foot Mount Snowdon in his 4x4 all-terrain wheelchair – known affectionately as 'the Terminator'. He raised more than £7,500 for Marie Curie and a local hospice.
The challenge needed months of intense planning and preparation and took a gruelling eight hours.
But for Jason, it was more than just a mountain. It was an act of defiance.
"It was just so inspiring how he coped over the steep terrain," said Liz. "It took its toll on Jason because his muscles are very weak. But it's a huge achievement and it's never been done before, so we've made history."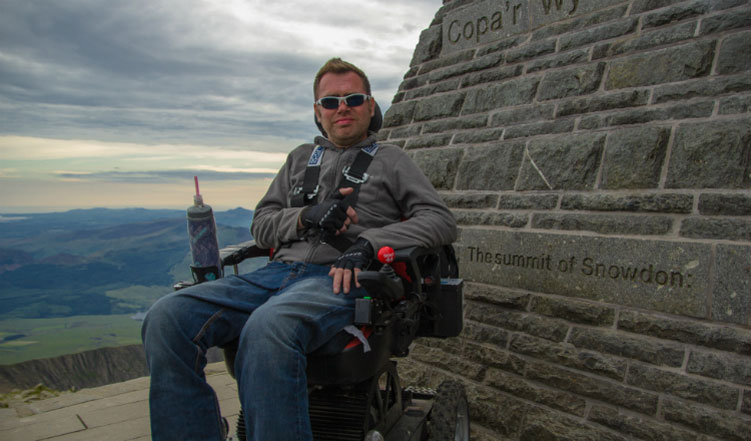 Being the best dad possible
Since then, Jason has continued ticking experiences off his bucket list – including an abseil off the Humber Bridge.
"He's determined to not let his condition define him," says Liz. "He wants to carry on as long as he can. And he wants to be the best dad possible."
To help Jason do this, Marie Curie Nurses have supported the family at home. With them caring for him overnight, Jason has been able to remain a permanent part of his daughters' lives.
"We really couldn't cope without the nurses," says Liz. "They give me the opportunity to get some sleep. With two young children, we need as much help as we can get."
Every day matters
Jason doesn't know exactly what the future holds.
Some things are certain – he knows he will lose the ability to talk and worries that Lilly and Poppy will forget the sound of his voice.
Others, like how long he has left, are less clear. So for now, it's about making every day count.
"Pleasure comes in many forms," says Jason. "For me it's time with my family. We go out to the park or the beach – all the places that the girls love. I want them to remember me.
"It would be really easy to hate my condition and let it consume my life, but the energy that hating it uses is far better spent living."
Join the Great Daffodil Appeal
Volunteering just two hours means Marie Curie Nurses can be there for more people.
Volunteer to collect