Joanna Gosling: My top tips for jazzing up your tea party with bunting
My favourite way to jazz up a table for a Blooming Great Tea Party is to create some beautiful bunting. Here are my tips on how to make reams of bunting super-fast using just one offcut of pretty fabric.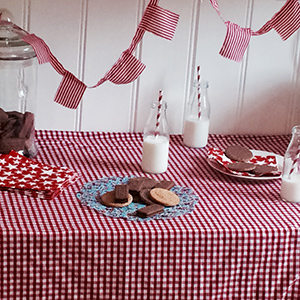 It's important to use cotton or poly cotton fabric as it tears extremely easily, allowing you to cut strips in seconds with no stress. For simplicity this bunting is made with square or rectangular flags.
What you will need
One metre of cotton or poly cotton fabric, allowing you to make 20 metres of bunting.
A sewing machine.
How it's done

1. First tear 20 narrow strips of fabric measuring 2cm by 1m. To get each tear started, make 20 snips into your fabric at 2cm intervals, starting at the selvedge.

2. Next, tear the remaining fabric into fourteen 5cm wide strips. Depending on the width of your fabric you may get more. Don't worry about measuring the width of the strips, just go by eye as you snip.

3. Make cuts into the length of each of these 5cm wide strips and tear each into pieces measuring approximately 5cm x 5cm. Some will come out as squares and others rectangles, this doesn't matter as the flags work better if they're not all uniform.

4. Tie the narrow strips together to make a 20 metre long ribbon.

5. Lastly, place the flags down the length of the ribbon and sew a continuous line over them, stopping then restarting at each knot. Don't worry about securing the loose ends of thread each time you stop, it won't unravel.

And there you go, some beautiful bunting made in super-fast time. The thing I love about bunting is that a little one-off effort goes a long way. Once created, it's there forever and you can pull it out of the cupboard time and time again for an instant pop of colour and prettiness whenever you fancy.

Sign up to throw a tea party and get your free fundraising pack full of tea party treats.