"It's so kind and wonderful. Nothing is too much trouble for them."
Keith Morgan wasn't able to see his grandson, Hywel, at the passing out parade – a graduation event for military personnel when Hywel became a Royal Marine – due to health complications. So the Marie Curie Hospice, Cardiff and the Vale staff decided to hold their own version of the parade just for them.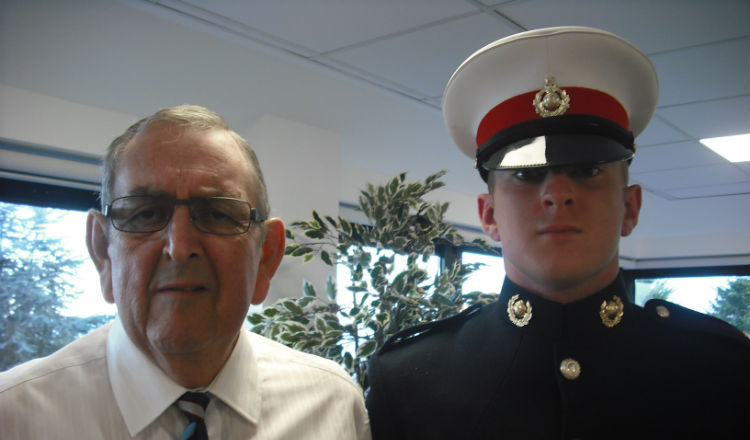 Keith's daughter and aunt to Hywel, Joanne, said: "My mum spoke to the sister and told her as soon as Hywel passes out he wants to come straight to see his grandfather in his uniform.
"She asked if there was any way they could have a room."
The extra mile
But staff at the Marie Curie Hospice went one better and decided they would help bring the whole family together in celebration.
Keith was joined by 15 members of his family at the Penarth hospice after his grandson made it through his training for the Royal Marine Corps.
The 20-year-old, who is now a King's Royal Marine Commando, has been in training for 32 weeks, and his grandfather was initially planning to go to the parade having followed Hywel's training journey online.
But following complications resulting from his terminal bowel cancer, it meant Keith had to be admitted to the University Hospital of Wales in Cardiff, followed by his current stay at the hospice, so he wasn't able to attend.
But it was important for Hywel that his grandfather see him in the uniform.
Keith's wife, Carol, said: "I couldn't believe it. It's so kind and wonderful. Nothing is too much trouble for them."
"It's a great achievement. I was amazed when I heard they would be putting this on," said Keith. "I thought my kids had organised it, but they said it was all to do with Marie Curie."
What next?
He and his wife are now getting support at the hospice to make arrangements for his return home.
Hywel said he had found his training "challenging but rewarding" and added that he was amazed at what the hospice had done.
The family is now getting on board with fundraising for the Cardiff and Vale Hospice, with fellow grandson Jake, aged 17, getting ready to do the Cardiff Half Marathon in aid of the hospice, which the whole family agrees has given tremendous care and support to both Keith and to them as relatives.