Record-breaking Brit reaches South Pole for Marie Curie
Luke Robertson has become the first Scot and the youngest Brit to reach the South Pole on an unassisted solo expedition , braving 730 miles of ice and snow to raise money for Marie Curie.
Luke reached the South Pole at 02:30 (GMT) after a grueling 39-day trek, battling against some of the harshest conditions on Earth.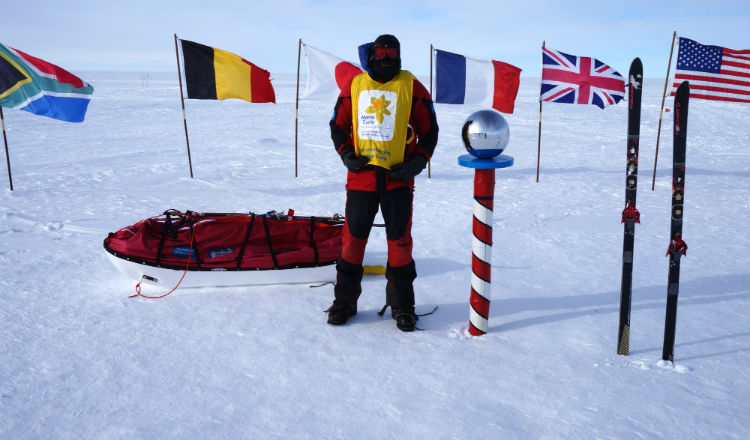 With temperatures plummeting below -50C, wind speeds of 100mph, and 130kg (20 stone) of equipment to drag hundreds of miles, the 30 year old Scot completed his epic challenge despite having a pacemaker fitted following heart problems at 23 and having major surgery last year.
During his adventure, Luke climbed the equivalent of 2,800m, struggled through white-out conditions and burned around 400,000 calories.
Luke decided to donate the money raised from the challenge to Marie Curie after witnessing first-hand the amazing work our nurses do. Having smashed his original fundraising target of £25,000, Luke has now set his sights on raising £100,000 for Marie Curie; that's enough to pay for 5,000 hours of nursing care.
Speaking at the South Pole, Luke said: "What an unbelievable and surreal feeling. I feel on top of the bottom of the world! All those months of training and preparation have really paid off, but I couldn't have done it without the support of so many people who have helped to make this expedition a success. In particular, my fiancée Hazel, my parents, family, friends and colleagues for their unwavering support. The team at ANI for logistics and communications support before and during this expedition, and the thousands of people from around the world who have been following my progress and sending messages of encouragement along the way.
"Thank you so much to everyone who has donated to Marie Curie; they are an incredible charity, very close to my heart, and I feel so proud to be representing them on this expedition. I hope this shows that you really can overcome challenges to achieve your dreams, whatever they may be. It's amazing to repay the faith put in me by all my supporters. Now, I think it's time for a big feed, a wee dram and a shower!"
Luke's Due South 2015 expedition has attracted global support, and the young explorer has some high profile supporters including Sir Ranulph Fiennes and Mark Beaumont .
Luke's record-breaking solo adventure shows that through sheer determination anything is possible, and the money that he's raised will help Marie Curie to care for and support people living with terminal illness and their families.
You can continue to send Luke messages of support and congratulations and make a donation to Marie Curie by visiting Luke's Just Giving page .
Want to do something special for Marie Curie this year? Take our quick quiz to see what sort of challenge would suit you.