Meet Miss Bucket List!
Ask Marie Curie Nurse Gemma what's the favourite part of her role and you'll only get one answer – helping people fulfil their bucket list wishes.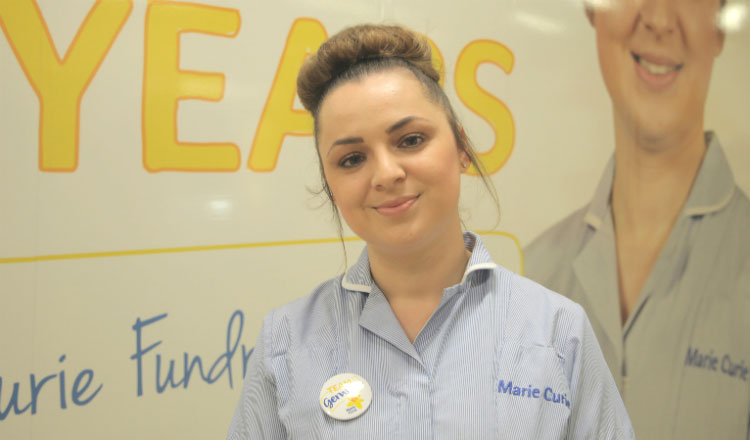 Gemma absolutely loves her job at the Marie Curie Hospice, Newcastle. "People think it's all doom and gloom at our hospice," she says, "but it's really not."
She loves building close relationships with patients and relatives, and creating a family atmosphere – but what gives her a special buzz is helping people fulfil their final wishes.
As she puts it: "Just because someone is dying doesn't mean they have to give up on their dreams." Here are some of her favourite memories:
1. High flyer
Believe it or not, one woman wanted to skydive. I told her to just go for it, and I felt so great when she finally did!
2. Relaxed in the garden
One woman near the end of her life was tired of the four walls of her room, but we're lucky because at the Marie Curie Hospice in Newcastle every room opens up into the garden. So we gently pushed her bed out onto her patio and she spent her final hours outside.
3. Tying the knot
There was a couple who wanted to get married. The guy was dying and didn't have very long left, so the hospice actually arranged for them to get married; they organised the whole day and even laid on the party. Things like that that can make such a big difference to people.
4. Final voyage
One patient's family originated from Germany and it had always been her dream to go to the Black Forest; it was right at the top of her bucket list. In the end, she went on a cruise with her son and best friend, and later sent me a postcard thanking me for encouraging her and saying she'd had a fantastic time. I think if someone really wants to do something they should – because at that stage, there's nothing to lose. You always hope your patients will manage to realise these ambitions and it's great when you find out they have!
5. Friends again…
I knew a patient who hadn't spoken to his family in years but we helped him to make peace with his sister before he died. I spoke to the sister, and she said how much she loved him and how much she missed him. I raced down the corridor to tell him – I was crying when I was telling him. He was so happy that he'd made peace with his sister, and I think he literally went just after that. It was such a nice ending.
6. 'Olympic' hero
There was another patient who was told that, due to his condition, he would never walk again. But our physio, Patrick, worked very hard with him and now he's actually walking with crutches. Some of the nurses and I made a medal and presented him with it. We were singing the theme from the Olympics! He was so overwhelmed, and crying.
---
Gemma is the face of our takeover of Newcastle Monument Metro station. For the next 5 weeks we will be providing commuters with information about the charity's services and encouraging them "Join Team Gemma" to fund a Marie Curie Nurse like her in Newcastle for the next two years.
Find out more about our nine hospices, which offer care and support for people living with all terminal illnesses and their families.