How my mum inspired me to volunteer
After her mother died, Michelle Beaver, from Liverpool, was inundated with people telling her how much they'd loved the lady who was always smiling. She explains how Marie Curie became part of their family, and how she's using her experiences to help other families living with a terminal illness.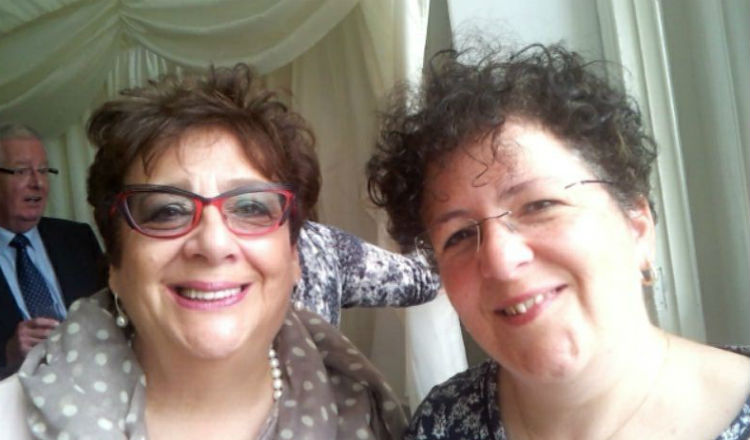 "Mom just lit up the room. You could always see her smiling. Everything was lively and happy and big. She was a bubbly person, and she just thought she had a very privileged life.
"Growing up, there was always some kind of charity thing going on. Mom was involved with lots of charities. We all got involved. I guess she inspired me then without me realising."
Coming home to the hospice
"The doctors found that she had lung cancer, but it was early on. She had an operation to remove it, and was then given the all clear. But months later she still didn't feel right. After more tests they said she had stomach cancer and had only got three months to live. When it got to the end she said she wanted to go to the Marie Curie Hospice in Liverpool because she knew how good they were.
"My aunt had been cared for there, she'd had cancer too. I remember taking my aunt to the hospice and the minute she arrived, the drinks trolley came round. It was just such a lovely touch. My aunty had her own room with a telly. She loved her QVC, so was shopping away! It just seemed so homely."
The best care
"It was the same with Mom. One or two of the nurses actually remembered her because she'd been there so often with my aunty. They were delighted to see her but devastated for her at the same time.
"All of the nurses did their very best to get Mom settled. Any time she was unsettled, they were there with her to try to sort it out. They just try to make everything the best they can for people."
Together until the end
"It sounds strange to say, but we had some lovely times at the end. My two sisters and I were with Mom every day. We would sing all the old songs from when we were kids – awful ones like Barry Manilow and Neil Diamond! It reminded us of Mom doing the ironing on a Sunday morning with the radio on.
"Family was what mattered most in Mom's life. So it seemed only right at the end that we should all be with her and stay in her room. Marie Curie offered us our own rooms to sleep in, but we were happier on the floor of her room. Mom didn't want us to leave her so we stayed until the end."
Making new friends as a Helper
"It's my family's experiences with Marie Curie that made me think: 'This is the charity for me.' I'd always loved doing things for charity but I'd never found the one that felt right. Now I have.
"I became a Helper volunteer a couple of years ago, just before Mom got sick. When Marie Curie told me they had a lady they wanted me to visit it was lovely! It was like, 'Oh, someone wants to be my friend!'"
Achieving goals together
"This lady had been housebound for about a year, due to her illness. All she wanted was to get out of the house again so I set her a challenge. I said: 'OK, let's sit in the garden in a few weeks.' When we'd done that I said: 'OK, let's get in the car.' Gradually we got to a point where she was ready to go out and then we did it.
"We went out in my open-top car and looked out at the river Mersey. The weather was perfect – the sun was shining and it couldn't have been better. Afterwards, we went to the chippy.
"It was massive for her. She spoke about it for ages afterwards. And I came home and thought: 'I have really done something today.'"
Mom would want me to help
"Having been through it myself, I know what these families are going through and the fears they're having. The thing I have to remember is that I'm there to listen and be a friend, not to try to take care of them!
"Honestly, it really is so rewarding if you've got the time. I think anyone can spare a bit of their time. And I think Mom would be proud of me for helping."
Interested in giving your time to support someone living with a terminal illness? Find out more about becoming a Helper volunteer.