"Granddad was the motivation for me to keep going"
Eleven-year old Orla has happy memories of going out fishing with her Granddad, Miles, in Connemara in West Ireland, before he got cancer. This summer she decided to do a sponsored cycle in his memory.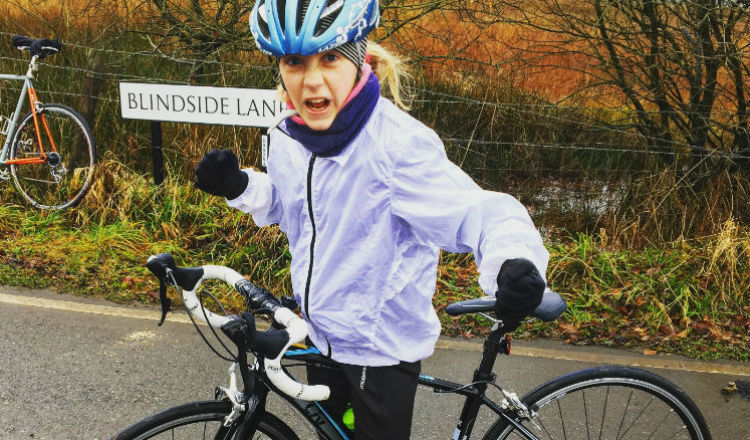 Getting hands-on with the catch, together
"I enjoyed doing fishing with Granddad because it was spending time with him", says Orla. "There was a special place he used to go to fish in Ireland called Connemara. We used to go and visit him in the school holidays.
"One time I remember really clearly was when we went over once and Granddad took us fishing, and I held a fish that Granddad had caught. It got scales all over my hands! Granddad took it out of my hands after that!
"He also liked to cook the really nice fish that he caught, like mackerel and salmon. I think that his dad (my great-Granddad) taught him how to fish."
Getting in the saddle
Orla started cycling when she was six using stabilizers. Since then she's become a keen amateur cyclist, visiting her local velodrome to do track cycling and going out with her dad, Bob, on the road.
This summer, she completed a 35-mile cycle around her home in Stannington, near Sheffield, in memory of Miles, who was diagnosed with lung cancer and was cared for at the Marie Curie Hospice, Belfast. Bob accompanied her to make sure she stayed safe out on the roads.
"I was raising the money for Granddad because Marie Curie looked after him", says Orla. "Granddad was the motivation for me to keep going. When I got tired, sometimes it helped me to think about him so I could keep going."
Tackling the busy roads
"The hardest part of the race was going along the A57 – it was steep and busy, and a motorbike, who rode past us, beeped and that made me jump. Some of my dad's friends were there on their bikes to help me along the busy bits of the road.
"We got to the finish line safely, and my mum had some cow bells which she started ringing when we got near! I didn't know she was going to do that.
"It took me quite a few days to recover afterwards, and I spent the day afterwards trying to relax."
Like Granddad, like granddaughter
Part of the reason Orla likes to go out on her bike is to enjoy the natural world around where she lives – much as her Granddad enjoyed the peace and beauty of going fishing in Connemara.
"I like cycling because I like the views at the top of the hills. I take pictures of the views", says Orla. "For the ride, I cycle from Stannington around an area known as the Strines. It is up in moorland and has lots of reservoirs."
Reaching new heights
"I'd like to be able to cycle really far in the future, and then I can challenge myself and go up hills. I've got a hill climb competition coming up. It's really steep, but I'm going to do it! I've got to train for it, but it's a fun event, and once you get to the top the people at the finish line people catch you!
"My favourite part of the race was finishing because I felt proud, because I raised a lot of money. I think the charity is brilliant and the nurses really helped my Granddad and I wanted to say thank you."