Palliative care on the agenda at the Scottish party conferences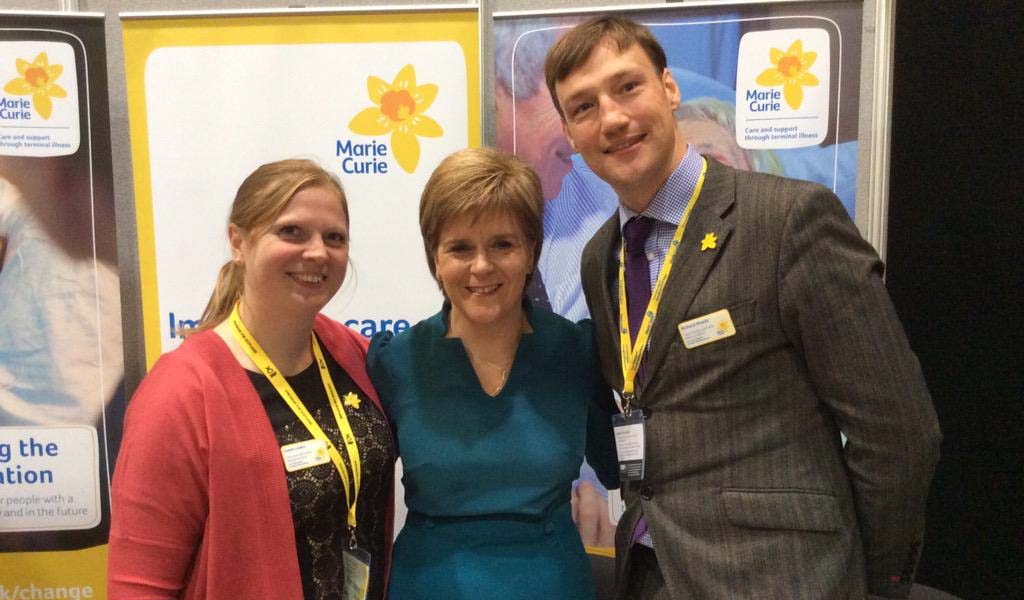 Ahead of the 2016 Scottish Parliament election next May, Marie Curie's Scottish policy and public affairs team has spent the last few weeks attending Scottish party conferences.
A major commitment in the charity's five-year strategy is that we will increase our role in influencing the policy environment across all parts of the UK. This includes shaping the social, political and economic environment in Scotland to make sure everyone who needs this care and support actually gets it. We know that isn't the case for everyone living with a terminal illness in Scotland.
Party conferences are the annual meetings of political parties, places where politicians and party members meet to discuss and decide party policies. With the upcoming Scottish election, this is a prime opportunity for us to speak to political parties about our work and influence their manifestos going into those elections.
Framework for action
The new Strategic Framework for Action on Palliative and End of Life Care, due to be published by the Scottish Government at the end of 2015, will go a long way to realising improvements in palliative and end of life care in Scotland.
However, our goal at political party conferences was to secure commitment from each party to help improve the lives of those living with a terminal illness, and their families and carers, in the next parliament. We asked political parties to commit to the following key priorities in their manifesto so that the next Scottish Government will:
commit to ensuring that everyone who needs palliative care has access to it by the end of the next Parliament (2021)
lead a public health campaign to encourage open and honest conversations to tackle the taboos surrounding death and dying
introduce a new national co-ordinator for childhood bereavement and review the role of the Curriculum for Excellence in supporting issues of grief and bereavement in children
ensure that any existing benefit devolved or new benefit introduced to the Scottish Parliament must include a system of fast tracking for those that qualify and are living with a terminal illness, and their carers
You can read our manifesto in full here.
Future of care
We hosted an exhibition at the Scottish National Party conference in Aberdeen; we pitched our ideas around supporting childhood bereavement at a policy breakfast session at the Scottish Liberal Democrats conference in Dunfermline; we hosted a drop-in session for parliamentarians, to meet some of our Marie Curie nursing team at the Scottish Labour conference in Perth; and we met with Green Party members and parliamentarians at their conference in Glasgow.
We had interesting and lively discussions at each conference about a range of issues, including the future of health and social care and ideas around what each of the political parties can do to improve the situation for people living with a terminal illness. Each party has agreed to consider our priorities in their manifestos.