The next Welsh Government must prioritise palliative care
Here at Marie Curie we believe everyone should have the right to the palliative care they need.
Sadly we know that, even with all the care and support the NHS and its partners provide, 6,200 people across Wales who need this care miss out on it each year because their needs are not recognised or they are not referred on to the right services.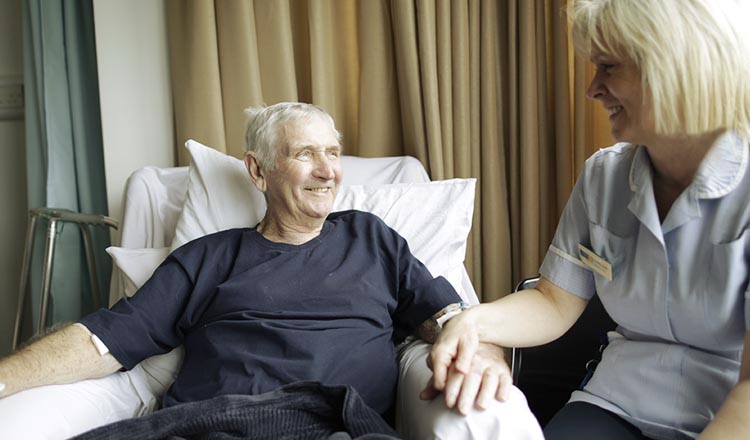 Palliative care is for people living with a terminal illness where a cure is no longer possible. It's also for people who have a complex illness and need their symptoms controlled. It can be given at home, in hospital or in a hospice.
It can improve people's quality of life. It's an important means of relieving symptoms that would otherwise result in undue suffering and increased visits to a hospital or doctor's surgery.
It can also provide support and advice to friends and family both before and after someone's death; this can range from practical help surrounding funeral arrangements to help and support in the months and years afterwards.
Barriers to care
A lack of palliative care can result in untreated symptoms that further hamper an individual's way of life as well as placing an unnecessary burden on hospital or other medical resources.
In Wales we know there are barriers faced by people in accessing the care they need. These include the type of condition they have, and a lack of awareness around what palliative care is and what services are available.
We also know that factors unrelated to your health and illness can affect how easy it is for you to get the care you need. For example access to suitable care can be more difficult if you have a disability, are a member of the Black, Asian or Minority Ethnic or Lesbian, Gay, Bisexual and Transgender Communities, if you're in prison, homeless or live in a deprived area. All this simply has to change.
Complex care needs
As more and more people live longer, they are very likely to have complex care needs at the end of their lives, often living with more than one terminal illness.
Health and social services are the Welsh Government's single biggest area of responsibility, accounting for 43% of its spending. Every candidate in the Assembly election next year will be campaigning hard on health and social care issues. We want to make sure that care and support for people living with a terminal illness and their families is right at the top of the agenda.
We are asking people right across the United Kingdom to contact their local politicians and ask them to pledge that they are working to ensure that everyone living with a terminal illness has the right to the care they need, regardless of their circumstances or background. Good care should be available to all of us when we need it.
Ageing population
With an ageing population, more and more people will need access to palliative care in the years to come. We want the next Welsh Government to build on the good work already done, which in many ways puts us ahead of the rest of the UK, to ensure that the growing numbers of people who will benefit from palliative care have access to it.
Ahead of the elections to the National Assembly for Wales in May 2016, Marie Curie wants all the political parties and candidates to commit to the following key priorities in their manifestoes. If they do, then much will be done to help improve the lives of those living with a terminal illness and their families and carers.
We will be asking all parties and individual candidates in next year's election in Wales to:
1. Commit to ensuring everyone who needs palliative care has access to it by the end of the next Assembly.
2. Take a public health, compassionate communities approach to developing new services for those living with a terminal illness.
3. Commit to a bi-annual survey of bereaved people to provide a fuller picture of end of life care in Wales
If you live in Wales you can help us in our campaign to ensure that everyone living with a terminal illness has the right to the palliative care they need.
Ask your AM and your MP to sign our pledge.