We're Marie Curie volunteers and we get chins (and tails!) wagging
They're our buddies, our best friends, our protectors and our confidantes – our pooches are amazing, and some of them are also out there providing a vital service for people living with a terminal illness, and their families.
Meet our Marie Curie Pets as Therapy volunteers, and their lovely owners!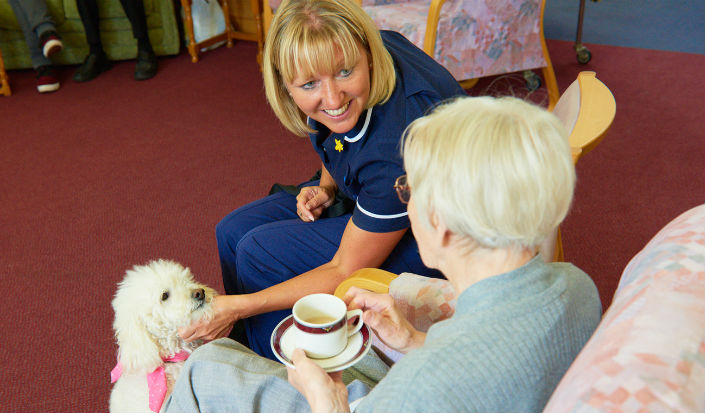 Name: Trudy
Age: 8½
Breed: Golden Retriever
Favourite food: Would eat anything given the chance
Likes: Swimming, car rides, running
Dislikes: Puppies pulling on her tail and ears
"Everyone wants to meet Trudy," says Graeme Danskin, from Edinburgh. "The old man on the other end of the lead is just an unavoidable necessity!"
This dynamic duo volunteer at the Marie Curie Hospice, Edinburgh, where Graeme enjoys bringing comfort and conversation in difficult times. "It's great when a patient has visitors and they welcome Trudy and I to join them," he explains. "The whole atmosphere lightens significantly and seems to help alleviate what must be a stressful situation, at least for a while."
A retired guide dog, Trudy is used to working with people and loves the fuss she gets at the hospice. But she does have one vice, admits Graeme. "Squirrels. If Trudy spots a squirrel she will rush, tail wagging, to stare out of the window with eyes following it everywhere – nothing will distract her while there is a squirrel to follow!"
Name: Maisy
Age: 8
Breed: Miniature Poodle
Favourite food: Chicken and rice
Likes: Walks in the Yorkshire Dales, camping, rolling in cow pats
Dislikes: Tummy aches (Maisy has a sensitive stomach)
"I got Maisy after my husband passed away," says Lisa Butterfield, from Bradford. "The intention was that she would keep me company and give me a reason to get up and out in the mornings. I have to say she's changed my life."
Lisa is a Nurse at the Marie Curie Hospice, Bradford. Colleagues told her there used to be a therapy dog that visited the hospice, but had sadly died. "Our patients missed that contact with a dog," remembers Lisa. "So I decided to register as a volunteer and get Maisy registered as a PAT dog."
Lisa believes Maisy's a perfect match for the hospice. "She really senses that people are not well," says Lisa. "Seeing and stroking Maisy instigates lovely memories for people and they tend to talk about their lives and how important animals are."
Name: Ruby
Age: 6
Breed: Labrador Retriever
Favourite food: Carrots, cheese, chicken, cucumber, strawberries
Likes: Long walks, swimming, trips to the pub (with her owners!)
Dislikes: Going out in heavy rain
"Ruby's tail starts wagging from the moment I pick up the bag I always take with me when I go to Marie Curie!" says Sarah Horne, from Warwickshire. "She forms a bond with the people she sees regularly. She recognises them and is genuinely pleased to see them."
Ruby and Sarah make weekly visits to the Marie Curie Hospice, West Midlands. "Pets can lift people's spirits, and provide calm and comfort in equal measure. Ruby is such a sweet, gentle girl. I thought volunteering would be ideal."
Name: Robbie
Age: 8
Breed: West Highland Terrier
Favourite food: Cesar
Likes: Chasing a ball, going for walks, sunbathing
Dislikes: Fireworks
"When he appears on a ward, Robbie brings joys and happiness to people who are often worried and anxious," says Linda McIlwaine, from Leith.
Linda's auntie Iris was cared for at the Marie Curie Hospice, Edinburgh, which inspired Linda to volunteer there with Robbie. "Seeing that it would make the patients and staff smile was what made me want to get involved."
And does Robbie enjoy his work? "He loves getting made a fuss of," says Linda. "Though I do have to keep an eye out if there are any soft toys about, as he thinks they may be for him to play with!"