How I prepared my kids for their dad's death
Sarah Wyn-Jones shares how her family coped during her husband Gareth's final months of life.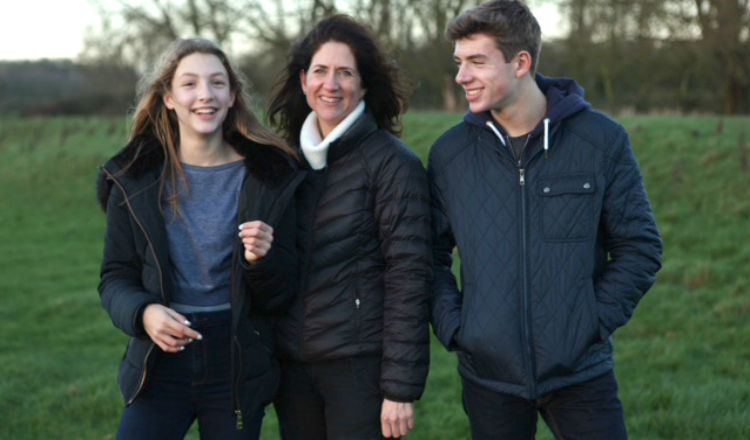 "Looking back, I can now truly appreciate how heart-breaking it must have been for Gareth to say goodbye to the children he loved so much," says Sarah, 52, from London.
Her partner of 23 years, Gareth, was diagnosed with terminal cancer in 2009, when their two children, Henry and Darcy, were just nine and six.
"They couldn't quite understand how it could be that their daddy couldn't get better from this horrid thing called cancer," remembers Sarah.
Finding support as a family
Sarah was holding down a demanding job alongside caring for the children and for Gareth. "Although outwardly I appeared to be holding everything together, I was struggling," she admits.
Sarah turned to the staff at the Marie Curie Hospice, Hampstead, where Gareth was being supported, for help. Through structured art and play therapy sessions, the family were able to begin processing their feelings.
"Henry, Darcy and I were encouraged to talk about what was happening to our family," recalls Sarah. "This time was heart-wrenching but sharing the problem with someone who had experience of this situation really did help."
Hope and understanding
Staff at the hospice also helped Sarah reconcile her sometimes difficult feelings towards her husband. "At the end of Gareth's life, he would sometimes become angry and irrational," Sarah says. "Were it not for the support of the counselling team, I fear we may well have parted as enemies and not the soul mates that we truly were."
One of the most important ways Sarah found to remain close to Gareth in his final weeks was to support his hopes for the future – even if initially this went against her judgement. "However ludicrous his notions of us going on an exotic holiday seemed, by getting the brochures and creating the dream, it helped everyone to remain calm," she recalls.
A perfect moment together
Shortly before Gareth died, he and Sarah began making plans to spend Valentine's Day together as a family. "Gareth had always liked gnomes so I managed to find an old Disney film called The Gnome-Mobile," remembers Sarah.
Staff helped Sarah wheel Gareth's bed into the hospice's family room. Henry and Darcy sat on their dad's bed, eating popcorn with him. "It was perfect," says Sarah. "We could've been at home."
Saying goodbye
Gareth died at the hospice on 25 February 2010. Sarah credits the hospice with helping their family come to terms with the end of Gareth's life. "It's very easy to say the words 'he's dying' but it takes a very special team to help both patient and family survive the physical and emotional challenges that these few words really mean."
"When the day actually came for the children to say goodbye to their daddy, they were able to do so in full knowledge of how they all felt for each other. Henry and Darcy sadly only had their daddy around for a short period of time. But golly did he make them feel loved."
---
If you're supporting a child who's coping with the loss of someone they love, there's information on our website to help. Or you can talk to our trained staff by calling our Support Line free on 0800 090 2309.