A rewarding couple of hours collecting for the Great Daffodil Appeal
Bricklayer and beekeeper Kenny Brown knows first-hand the difference made by the Great Daffodil Appeal. His mum was cared for at home by Marie Curie Nurses and he has personally benefited from the experience of collecting in his community.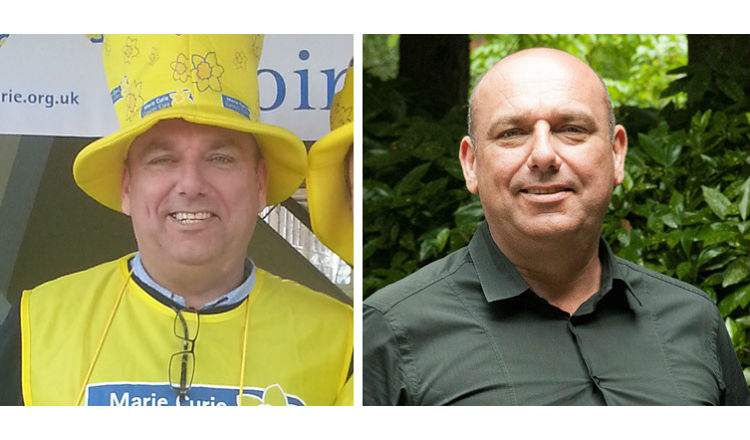 "My first Great Daffodil Appeal was in 2012 and we raised a couple of grand last year. I think Marie Curie is great. I mean, what can I say? Without Marie Curie there would be a lot of families much worse off, when they have lost a family member or a friend. What would people do without the charity?
"When I see those nurses, I think they are like gods. They could be doing other jobs and getting more money, but they chose to do this.
"Collecting has helped me face up to personal battles about self-esteem, about confidence, about talking to people. They're things I found incredibly difficult, so as a result of collecting it has helped me on a personal level.
"Last year, when we had just counted all the money, we looked at each other, burst into tears and hugged. It was obviously tears of sadness, joy, pride and that was the most defining moment for me. We were just so proud of ourselves.
"You see the same people every year, all the shop owners and businesses. People come up to you and say, 'oh, I remember you from last year'. The appeal brings Marie Curie closer to my community and my community closer to Marie Curie.
"When I am out collecting, the generosity of local people really is phenomenal. What I really like is when people come up to you and talk about their own personal stories. You really get to know these people.
"I am 6'2", around 15 stone, all dressed in yellow – I think I stand out! If you wear a hat then you have more chance of collecting money. Always give someone a smile. If you catch their eye, 75% of the time they will give you something."
Thousands of volunteers like Kenny are getting behind the daffodil and you can share that rewarding experience by signing up to collect for a couple of hours near you.