Three champion marathon runners hit the streets of London
Whether you're not much of a runner but considering doing something for charity, you're running your first marathon or you're a seasoned pro, get inspired by three champion runners taking to the streets of the capital in the Virgin Money London Marathon this April.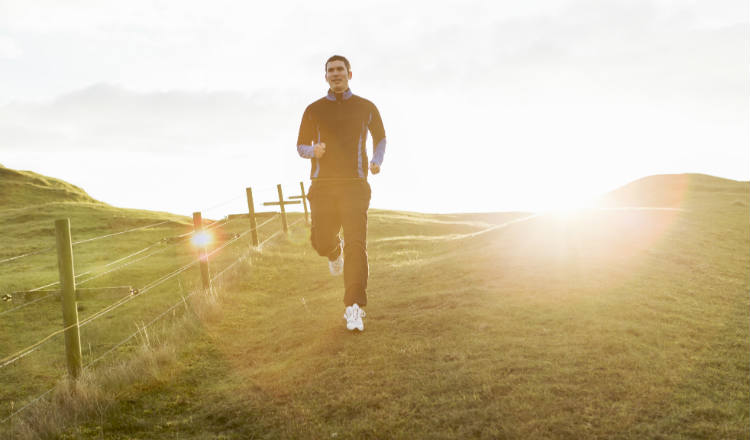 People decide to run a marathon for all sorts of reasons. Some do it for the sense of achievement, for exercise and health benefits, or because they just love running. Others run in memory of someone they love, or out of passion for a cause.
Meet three of the 130 Marie Curie runners who, together, will raise around £210,000 this year to help fund Marie Curie services at the Virgin Money London Marathon on 22 April.
Marathon first-timer Annie Wade is a Marie Curie Nurse. Richard Mutimer lost both his parents and is something of a running superhero. And Dr Jane Collins is CEO of Marie Curie.
They explain why pounding 26.2 miles of pavement, and all the training that's needed to get to that point, will be worth it.
"Now feels like the right time to give something back"
Richard Mutimer, Marie Curie Fundraiser
Richard's inspiration comes from his parents. His dad died in 2012 and his mum in 2015.
"My mum Gill was an incredible person. She was very passionate and caring; always the first person to stop and reach into her purse if there was someone on the street with a charity tin.
"My mum and dad's relationship was a very real and special one. This year would have marked their 30th wedding anniversary.
"Mum had lived through breast cancer twice, but then it came back for the third time in 2015. She gave it her everything, even then. She passed in August of that year.
"When Mum died, it became clear to me that I didn't let myself properly grieve for my dad. I was grieving for both of them.
"Running the London Marathon is something I've always wanted to do. Both Mum and my granddad were able to die at home thanks to Marie Curie Nurses. Now feels like the right time to give something back." Sponsor Richard
"I love helping people"
Annie Wade, Marie Curie Nurse
"I want to raise awareness of the work Marie Curie Nurses do – and how important it is for the families we look after and their loved ones.
"Before I worked for Marie Curie, I was a nurse who cared for someone for over four and a half years, and when she passed away it really upset me.
"After that I wanted to care for many different people so I joined Marie Curie, and I've been a Marie Curie Nurse for five years now."
"I'm also doing it in memory of my dad, Donald, and my friend Rupert Somers Brownridge – and for my own health. I've joined Slimming World and I want to lose some weight through my training. I'm so excited but very nervous. My goal is to finish!"
Annie's been keeping a training diary, documenting the highs and lows of taking on her marathon challenge. Read her latest post.
"I know it'll help someone who needs our care"
Dr Jane Collins, Marie Curie's CEO
"We need to raise money to fund our services across the UK, and to do that we need to engage potential supporters in different ways. Sponsoring someone you know to take on a challenge is one of those ways."
"In the harder moments of my training, I imagine my father waiting at the finishing line ready to cheer. He died just before Christmas and thought I was mad to run a marathon. He would have still cheered though.
"I'm looking forward to seeing other Marie Curie runners and our supporters in the crowd. The most rewarding part is knowing the money raised will help someone who needs our care." Sponsor Jane.
130 people, 130 personal stories
There are so many amazing runner stories to tell, like Clementine Morley who is not only running the marathon, but shaving her head too.
Clementine says: "I'll be hosting a fundraising and head shaving party the day before the marathon, hoping that the bald-headed, streamlined effect will 'shave' time off my run as well as boosting my fundraising total." Sponsor Clementine.
Well done to all our 130 runners for putting in such a brilliant effort and raising money to fund our nursing, hospice and information and support services. Best of luck for the big day!