Seven things losing my husband has taught me
This year, Sarah Redmond will be running her first ever Virgin Money London Marathon for Marie Curie, in memory of her husband Edward, who was cared for at our hospice in Bradford. Here, she shares the words she's come to live – and run – by.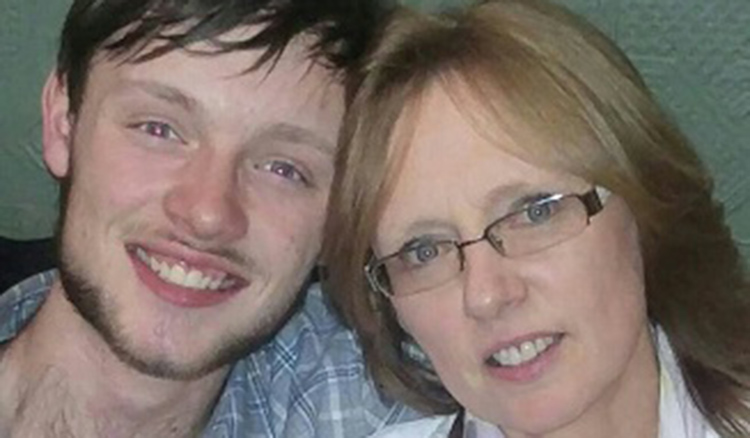 1. Believe in yourself
Edward ran the London Marathon in the 80s and after he died I said to myself that one day I would run it in his memory. I'm not a runner, and I know I won't be the fastest on the day, but I will finish! Our son William (pictured above with me) is studying sports science at university and has been getting me fit for the day. He'll be there to cheer me on, along with my partner Steve, sister Penny and niece Helena. I'll be thinking of Edward as I run, along with other family and friends who are fighting their own battles right now.
2. Grab hold of every opportunity
It's an interesting story how we met. I was working as a nanny, and Edward was the postmaster of the local post office. We hadn't gone out or anything, just chatted as friends, but when I knew I was moving abroad for a job I popped in to say goodbye. He gave me his address and said to keep in touch. I sent a letter my first week away, and a dozen red roses came back. And, as they say, the rest is history.
3. Take nothing for granted
A year after William was born, Edward said he didn't feel right. He went for tests and it was diagnosed as stomach cancer, so Edward had surgery to remove part of his stomach. We thought that was it and he was going to be ok, but a year later Edward fell ill again. Further surgery found more tumours – too many to remove. We tried chemotherapy a few weeks before Christmas, but it didn't work out and Edward became very ill.
4. Accept help when you need it
We had so much help from family and friends. Our next-door neighbours were just fantastic. Karen and Andrew supported us all the time that Edward was ill. They had a little boy, Joshua, who was about nine months older than William, and they were so close. Karen was like a guardian angel to me. I could never repay her for what she did for us all.
5. Make the most of every moment
Christmas was just around the corner, and we knew it was going to be the last one we had as a family. Edward was in hospital, but he wasn't able to stay in over Christmas, so he was transferred to the Marie Curie Hospice in Bradford. With their help and support I was able to bring him home so he could celebrate Christmas with William and I. The hospice nurses gave me his drugs and told me what to do. It was very special having him home for that last Christmas.
6. Go the distance
Edward went back into the hospice on Boxing Day. He was going to come home again for New Year, but when the day came he decided he wasn't strong enough and would prefer to stay at the hospice. I think that just goes to show how much the hospice were able to do for him. Instead, I took William in to say goodbye to his dad. It meant a lot to see them together. A few days later, Edward took a turn for the worse. Being there with him was non-negotiable for me, so the hospice got me a bed in Edward's room and made things as comfortable as they could. They gave us the space to be together and I stayed with him until the end.
7. Keep their memory close
Edward died 15 years ago but he's still very much part of our lives. William was only three when it happened, but he has his dad's photo up in his bedroom. Edward was from Ireland, and William loves the fact that he's half Irish. Every year, on the anniversary of Edward's death, we go to the chapel at the Marie Curie Hospice to remember him. He'll always be part of our family.