Five ways you can support us this Christmas
Over the Christmas period, Marie Curie Nurses across the UK will provide essential care to people living with a terminal illness. So families can enjoy Christmas the way they want to – together.
You can help make sure Marie Curie Nurses are there for those in need this Christmas.
Sign up for a Christmas collection
The care our nurses provide over the Christmas period costs around £690,000.
In Christmas terms, that equates to roughly 17,250 Douglas Fir Christmas trees!
Don a yellow Santa hat and volunteer a couple of hours of your time to collect. You'll be helping us fund that vital nursing care.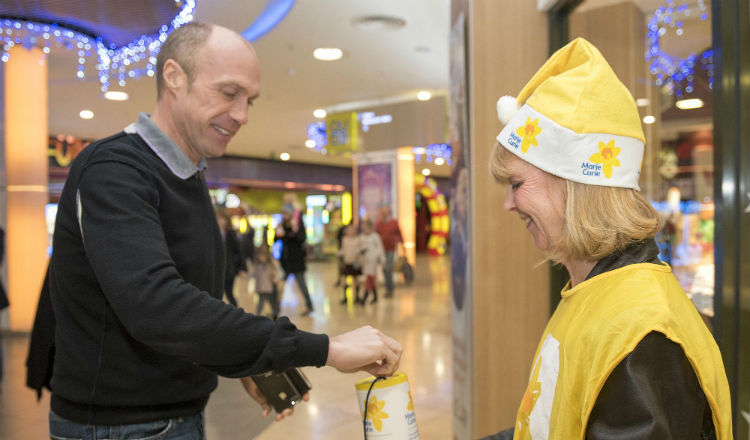 Buy Christmas cards and presents from our online shop
Why not visit our festive online shop ? You can pick up fantastic gifts from our new Christmas range safe in the knowledge that your shopping is making a difference.
Shop through Amazon Smile
Amazon has launched its new site, AmazonSmile where millions of products are eligible for a charitable donation.
And it won't cost you a penny more.
Light up Marie Curie's Christmas tree
Light up the skies of the world's first memory-powered Christmas tree between . The lights on our tree will brighten if you share a memory on Twitter or Instagram using #LightUpXmas
Fancy a festive trip out? You can visit Southbank and see the lights in action and also make a contactless donation to Marie Curie.
Find the tree underneath the London Eye (SE1 7PB), 4-17 December 2017.
Knit socks for hospice patients
Help keep our patients cosy this Christmas.
We want everyone staying at a Marie Curie Hospice to receive a pair of knitted socks on Christmas Day.
We'd love your help – either with knitting socks, or by spreading the word. You could use our special yarn (which each sale triggers a £2 donation to Marie Curie) or any yellow, white and blue yarn.
Please send your knitted socks to: Smita Mistry, Marie Curie Communications Dept. 89 Albert Embankment, London SE1 7TP. You can contact her for more information on 020 7091 6650 or email smita.mistry@mariecurie.org.uk
---
Your help can make a huge difference to people living with a terminal illness and their families. Here's how we're keeping families together through Christmas.