The man who brought sunshine wherever he went
When Graham Batterham's brother-in-law Brian was diagnosed with terminal stomach cancer, the family did all they could to make his final months as happy as he had always been.
Graham says: "When we think of Brian, fun-loving and caring are the words that keep coming up. He had the Irish gift of the gab, and everybody loved him.
"Always quick with a joke, always smiling, always happy to talk to anybody and very easy to talk to!
"Brian shared that love of life with his family and friends. He wanted them to be just as happy as he was."

Brian, in his younger days...
Dealing with a terminal diagnosis
Brian was 72 and still working as a self-employed building contractor when, out of the blue, he felt a twinge in his side. It turned out to be a stomach tumour.
Although Brian had started chemotherapy immediately, he stopped treatment when his medical team found out that his cancer was terminal.
Graham says: "All Brian could think about was not putting his family to too much trouble, which was very typical for him.
"So once treatment stopped, he only had one thing on his mind – to go to the Marie Curie Hospice, Hampstead."
Home away from home
Being at the hospice meant that Brian's wife, Diane, was just a five-minute car journey away.
Graham says: "The hospice was almost like going home to family. From day one, I remember Diane saying it was as if they knew Brian his whole life – they were very supportive, caring and made everyone feel so welcome.
"If there were any special requests like sleeping over at night, nothing was too much trouble. We felt like everybody was on our side, trying to make things as easy and peaceful as possible.
"I could picture Brian with the whole family around his bed, with him laughing – he was still cracking jokes a few days before he died. It was like home away from home. I know that made an enormous difference."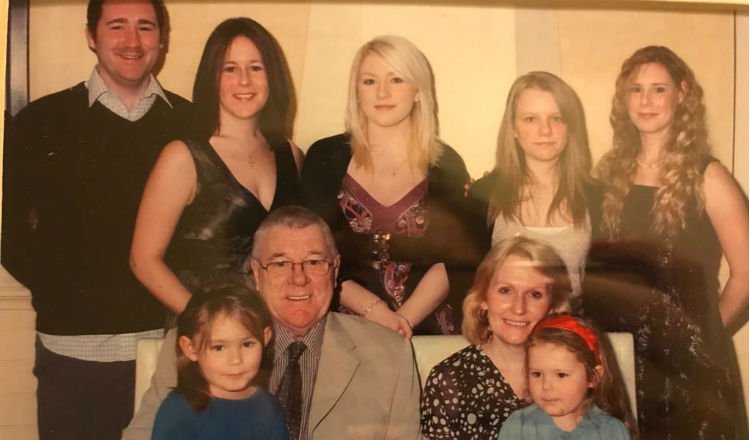 Brian's children (top row, left to right): Richard, Kelly, Sarah, Olivia and Katie
Bottom row: Brian and Diane with their granddaughters, Rowan and Leah
Swimming for Brian
Brian swam regularly all his life and made sure he taught his five children to swim well too. They're now all taking part in this year's Swimathon, swimming together for their dad and Marie Curie.
Swimathon is the world's biggest annual fundraising swimming challenge. Graham has been involved as an Advisor since it first started in 1986. But the water isn't his natural environment.
Graham says: "It's slightly embarrassing to say, but I'm not really a swimmer! I leave the swimming to Duncan Goodhew, Olympic gold medallist swimmer and President of Swimathon."
Great reasons to swim
Over the last 10 years, Swimathon has been supporting Marie Curie, raising more than £12.5 million for the charity.
Graham says: "Our choice of charity is very important. Sadly, many people have had the experience of caring for people at the end of their lives.
"With 600 pools across the UK taking part and challenges ranging from 400m to 5,000m, there's something for everybody who wants to get fit by swimming while raising money for a good cause."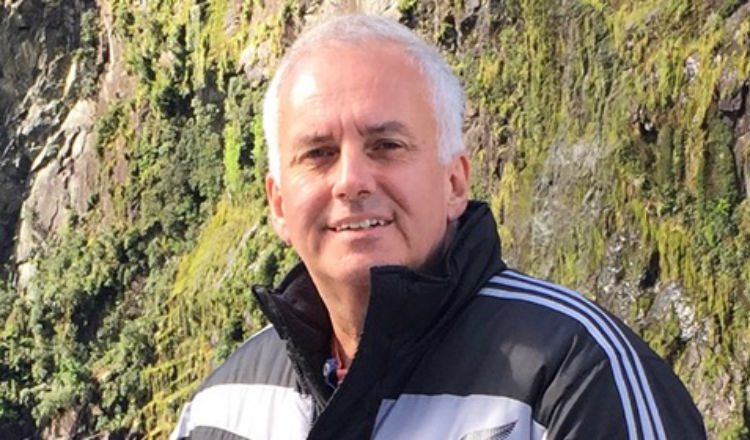 Graham has been involved with organising Swimathon for the last 30 years
Dive on in
Graham thinks Brian would be proud to swim for Marie Curie.
"Brian wasn't able to speak much at the end, but I know he was enormously grateful for what Marie Curie did for him and his family.
"I'm sure, looking back, he would be the first to jump into the pool if he could."
---
Swimathon 2018 is taking place from 27 - 29 April. This year, it's raising money for Marie Curie and Cancer Research UK.
Sign up today as an individual or a team with your family and friends, for your ultimate swimming challenge!