Things I learned in prison…
After two decades' nursing in an HIV clinic and prison, Bill knows a thing or two about caring for people under tough circumstances. But with Marie Curie, he's finally found his perfect home.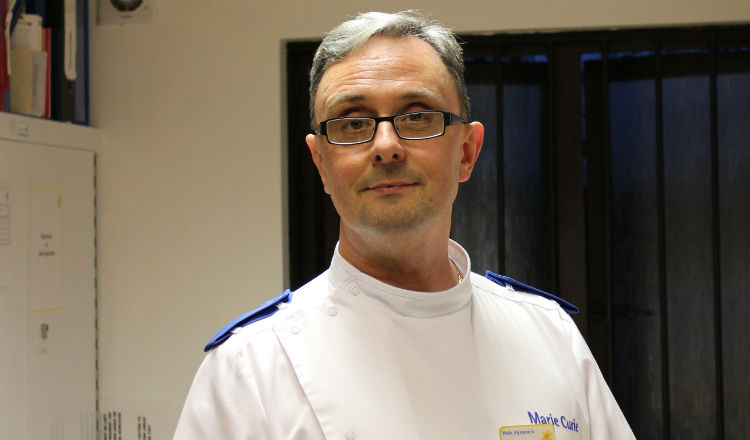 I signed up as an HIV support volunteer when I was 22 years old.
The training – largely centred on grief and loss – was very intense, but the experience inspired me to become a nurse. When I saw how dedicated and knowledgeable these people were, I knew that was what I wanted to do.
Prison nursing was colourful…
Once on the prison ward, a guy who was the double of Hagrid from Harry Potter – 6 ft 5", and 18 stone – decided to attack me. I don't remember much but I've seen it on CCTV. He had me face down in a choke-hold and remember thinking: "If I don't breathe soon, I won't breathe again." Apparently, he was trying to gouge my left eye out. After two weeks, I was back on the ward.
…and heartbreaking.
In prison, end of life care was a rarity but did happen. Because of security issues, prisoners sadly couldn't have their relatives in with them much, even at the end, so we became their surrogate family. It was the complete opposite of the Marie Curie hospice, where family are welcome the whole time.
Laughing definitely helps.
I've always used my sense of humour to get through things. I don't make light of serious situations, but if you can break the ice in certain moments it will help.
The Liverpool hospice is filled with lovely memories.
So many positive things happen here. I remember once we managed to get a dying man home for a couple of hours on Christmas Day, which meant so much to him. The beam on his face was just lovely. I think he died the day after that, but we had granted his final wish.
There's always time for a hug.
Some patients bring their children. I recall one woman's son, who was only six, came up to me one day on the ward while I was doing a medication round and had my bright red 'Do not disturb' tabard on. He pulled at my tunic and when I looked down, he asked: "Can I have a hug?" Now, it doesn't matter how busy you are: when a six-year-old asks for a hug, he gets one!
Tears don't always come from sadness.
One particular lady, who was only in her 40s, had been very low for a while. Chatting to her one day, I mentioned that I planned to see Les Miserables during my annual leave and she jokingly asked me to bring her back a fridge magnet. After I got back, she said: "I bet you didn't remember my fridge magnet." And when I pulled it out of my pocket, she burst into tears. "You don't know what that means to me," she said. I think what moved her so much was that I'd taken a moment for her in my own time.
It's good to talk.
A big part of our role is listening to patients, and not only if they're having a bad day. Besides giving out information, we also need to absorb it from the patient and their family in order to give the best care; so they understand that we understand. This means – once the meds are done – taking time to sit on the bed, look them in the eye and just let them talk. I always say to patients: "We make the policies and the protocols, but you make the rules." It's their care, after all.
Comforting cuddles are medicinal, too!
Sometimes, a previously quiet patient might suddenly pipe up: "Please hold me." And you're not going to say no to that request, are you? If that means the other jobs start to back up, so be it.
Home at last.
I should have come to Marie Curie years ago – it feels like I've finally found my niche. I'm 50 now, so if this my last job until I retire I'll be more than happy to stay.