I'm a Marie Curie volunteer and I'm there in the darkest hours
Night can be a difficult and lonely time if you're living with a terminal illness. In our hospice in Belfast, 'twilight volunteers' like Complementary Therapist Joan Martin are there to bring comfort and calm when it's needed most.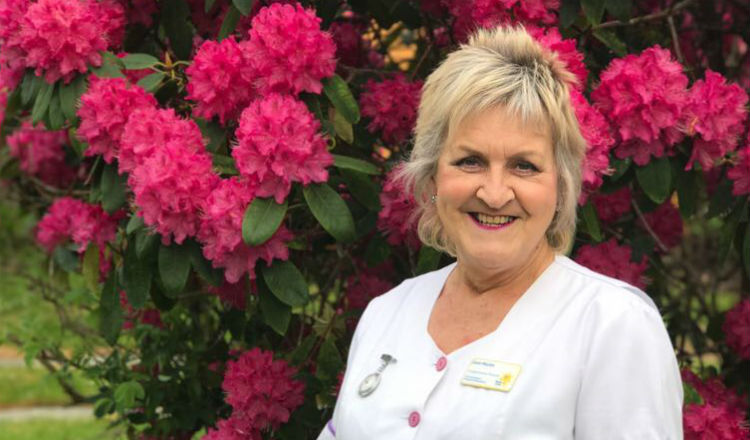 "Since January, I've been volunteering from 9pm to 12am – what's known as the 'twilight shift'. I give massage and reflexology with essential oils. At night, people can be at a very low ebb. So for me, evening therapy is about creating a sense of wellbeing, peace and tranquillity, despite difficult situations and prognosis, resulting in good-quality sleep.
When day becomes night
When I arrive, I liaise with the nursing staff and they give me a brief account of who may benefit from some time with me. After they've been given their night time medication, I then follow with the appropriate treatment. Because the patients see us working with the medical teams as a combined force for their ultimate good, they are more willing to try it.
I was very pleasantly surprised to see how far the acceptance of aromatherapy as a form of treatment had come. There's an acknowledgement that massage can achieve therapeutic advancement alongside medicine. That's why it's called 'complementary therapy'.
It's a special place
It's special being in the hospice in the evening because of the intimacy I have with patients, relatives and the nursing staff. Because I'm a night owl, I feel that is where I can contribute the most. When someone is finding it difficult to unwind and settle, it is very fulfilling to be able to bring them to a place of peace, contentment and serenity. I'm in awe of how people cope in very sad and difficult times and it's a privilege that, as a complete stranger, I am invited into such a sacred space.
I find that nearly all of the people I help want to tell me about how they came to be diagnosed, the journey they have been on since that time and how their life has changed. They can be concerned about their children, relatives, friends and even pets as they watch them struggle and wonder how they will cope when they are gone. I also get to connect more with relatives who are staying overnight with their loved ones. They too are often keen to share their experience.
Challenging, but rewarding
People are amazed that this service is available at night. I can't say it's an easy thing to do – but I gain a deep sense of fulfilment that I do not get in any other aspect of my life. For me it's a 'calling' to volunteer and offer my skills for Marie Curie. I am genuinely overwhelmed with the privilege of bringing a degree of solace to a person who is in the process of leaving this earth."
---
Interested in becoming a Marie Curie volunteer? Find your perfect role today.