We must change the conversation about terminal illness
What do you think about if someone says the words "terminal illness"? Many of us will prefer not to think about it at all unless we absolutely have to – perhaps only if it's something that affects us personally or an issue that we come into contact with as part of our professional life. That's understandable; death is an uncomfortable reality. But we all do need to think about it more than we may like to. In fact, we urgently need to change the conversation about terminal illness.
Why are we saying this now?
Our society is changing. We're getting older as a population – the post-war, baby boomer generation is starting to move beyond retirement age. In 25 years' time, there will be an extra 100,000 people dying in the UK each year – the equivalent of one more person dying every five minutes.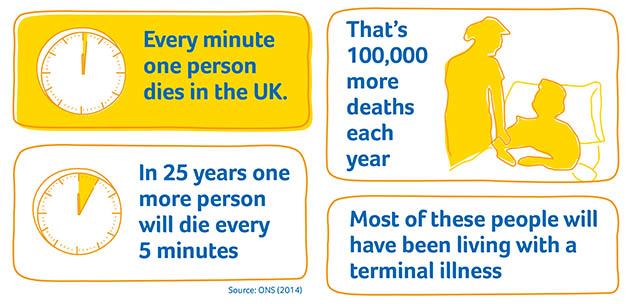 Most of these people will have been living with a terminal illness. As people get older, their needs also become more complex. Forty-four per cent of adults in their last year of life have multiple long-term conditions. So this means our health and social care system will be facing unprecedented demands. It also means this issue affects us all. It's likely to touch most families in the UK in the coming years. We may not like to think about it in this way, but the reality is that we will all die. So when we talk about care and support through terminal illness, what we're really talking about is the kind of care we want for our families, our loved ones and ourselves.
Where are we starting from?
If we're saying things have to change, it's reasonable to ask what kind of care people who have a terminal illness experience today. It's not a great picture. Carers say seven out of 10 people with a terminal illness don't get all the care and support they need. Front-line clinicians say lack of coordination between teams delivering care, insufficient funding for services and time-poor staff are barriers to meeting the needs of people with a terminal illness, according to a new Ipsos MORI survey commissioned by Marie Curie.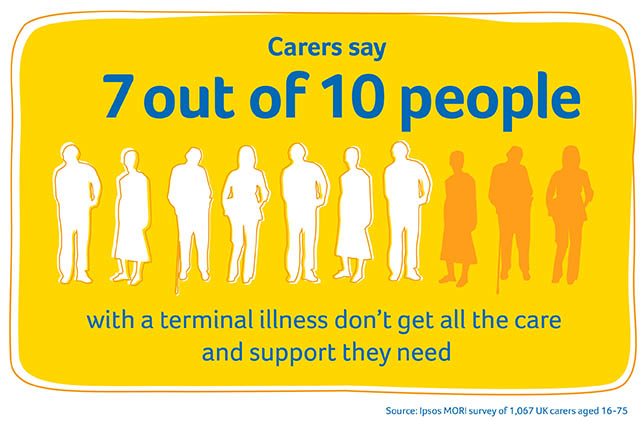 There are also serious inequities in terms of who can access the right care and who can't, as shown today in a new report from the London School of Economics (LSE), commissioned by Marie Curie. Factors like what condition you have, your age, where you live and your ethnic background have an unacceptable impact on the care you can access. We don't think this is good enough. It's particularly concerning given the increased demands the system will be facing over the next few years.
What are we going to do?
At Marie Curie, we know we need to do more for more people living with a terminal illness. So, as a starting point, today we're launching the Marie Curie Support Line.

The Support Line, along with new information resources on topics like benefits and accessing services on our website and our Marie Curie Community, is there to help people affected by terminal illness navigate the system and get the most from the time they have left. If you're very close to what we do, you'll already know that, while most of the people we care for have cancer, others have a whole range of illnesses, including heart or lung disease, dementia or motor neurone disease. But many people don't know that, including people who may need our help. So we're going to be making it clearer to the public, and to healthcare professionals, that we're here for people with any terminal illness, including terminal cancer.
Changing the conversation
From today, we will be calling, as loudly as we can, for the new conversation about terminal illness that we urgently need. It will need to tackle the big issues and find solutions. And it will need everyone to take part, including people who have a terminal illness themselves or are supporting a loved one, health and social care professionals, service planners and policy-makers. We want to hear from you – take a look at our campaign page and look out for more about how you can get involved in the near future. The conversation about terminal illness must change. If it doesn't, we as a society will be failing vulnerable people at the time they need us most. Read our Changing the Conversation report