We must not forget that carers need care too
Every year Carers' Week provides a national focus on the challenges faced by carers across the UK. In Wales, we are working with a number of organisations to ensure carers get the support they need. by Susan Court, Marie Curie Caring for Carers project lead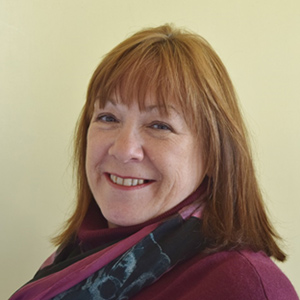 In October 2013 the Marie Curie Caring for Carers project was set up in Wales to help fill the support gaps experienced by the many carers caring for someone living with a terminal illness.
When you're caring for someone with a terminal illness, it can be all too easy to overlook your own needs and carers often tell us that they don't get all the help and support they need. Our collaborative project works in partnership with carers, local health boards, local authorities, voluntary organisations and others who provide support for carers in Wales. The ethos of the project is to empower carers and improve their wellbeing by supporting them to take some time for themselves, promoting resilience and the skills needed for them to care with confidence. No two carers' experiences are the same, so we've tailored our responses to people's needs as they have emerged. To date, the Caring for Carers project has held 39 awareness sessions supporting carers across Wales, offering advice and practical support with sessions such as, Time for Me – Mindfulness for carers and Am I doing the right thing?
Reaching out across Wales
On a strategic level, we have been working with Hywel Dda University Health Board via its Investors in Carers programme for GPs surgeries, sharing good practice across the rural locations in Ceredigion and raising awareness in schools about the issues facing young carers. We're also piloting Thinking about the Future, which are anticipatory grief sessions in conjunction with Aneurin Bevan University Health Board, to offer insight and coping strategies for those people caring for someone with a terminal illness. The project has also taken up the opportunity to work with Carers Trust Wales. Initially, we'll be working with groups of carers via facilitated supported sessions and together we're also developing an information and training package that will extend the project's reach across Wales.
It's good to talk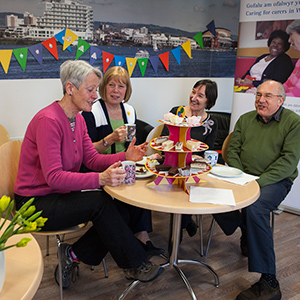 One of our major success stories has been our Carers' Café. Since opening in March 2015, the Carers' Café, based at the Marie Curie Hospice, Cardiff and the Vale , has seen 75 carers come through its doors for some cake, a cuppa and a chat about the issues they face with other people in the same situation. I'm extremely proud that we've been able to support nearly 500 carers in Wales since the start of the project, and the feedback we have received has been extremely positive. Here's what one of our carers had to say about it: "The Carers' Café is great, it gives me the opportunity to speak to other carers and arrange to meet up at the next session. Having something like this to look forward to is so important, these little breaks from our role as carers can't be underestimated. "Time at the café offers me exactly what it set out to do , it provides a friendly and welcoming place where I have the opportunity to share stories, socialise and relax." Take a look at the different ways Marie Curie provide help and support for people who are caring for someone living with a terminal illness.