What it's like to train as a Marie Curie Helper volunteer
By Blanca Drayton Helper volunteer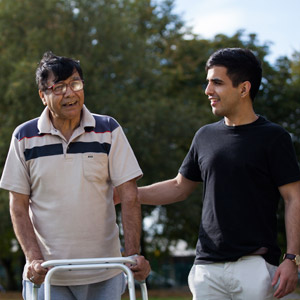 I've wanted to become a volunteer for a long time. I wanted to give something back, especially as I've lost family members, and a friend, to cancer in the last couple of years.
I believed I had the right skills but at first I wasn't sure how to go about it. I looked for the nearest hospice in my area and found the Marie Curie Hospice, Hampstead. I sent an email and Terri, the Helper Service Manager, soon got in touch. I arranged to see her and she explained how Marie Curie was about to set up the North London Helper Service. I was immediately taken by Terri's enthusiasm. I was excited about meeting other volunteers like myself and starting our evening trainings together. I immediately felt I was in the right place, with others who also wanted to help and make a difference. On the first evening of training, Terri introduced us to Clare, manager of the East London service, which has already been running for a few years. Clare was full of energy and ready to share her knowledge and experiences.
Boundaries of the role
We talked a little bit about ourselves to break the ice, and then the session started. The main points of the first session were about the boundaries of the role, confidentiality, communication skills, building a rapport with the client and the different levels of listening. We got into groups and went through some very interesting worst-case scenarios, which gave the group a lot to talk and think about. We discussed communication skills and did some role play on how assertive we could be in different scenarios, which was fun. In our follow up training session, we looked into personal safety and what it would be like working on our own. We were reminded that the service manager would always be at the end of the phone and there would always be practical support for us as volunteers.
Inspiring and worthwhile
We were privileged to have with us two volunteers from East London to share their very touching experiences, which made everything all the more real. We were also shown different examples of Helper report forms and explained the importance of filling them in after each visit. In our last session, we touched on bereavement and discussed the dimensions of loss, different ways people express grief and looked at a few case studies. The training sessions have been inspiring and worthwhile and I now feel well prepared to fulfil my role as a Marie Curie Helper. Are you interested in volunteering? Find out more about the Marie Curie Helper Service.