Dad's whiskey and soda, and other memories
Stanley Hinchliffe is remembered at the Marie Curie Hospice, Bradford as a character – he loved a drop of whiskey and made marmalade for the nurses. It was something he and his wife, Audrey, had always done together. Their daughter, Sue, explains how Marie Curie got Stanley back on his feet after Audrey's death, and helped make his final months extra special.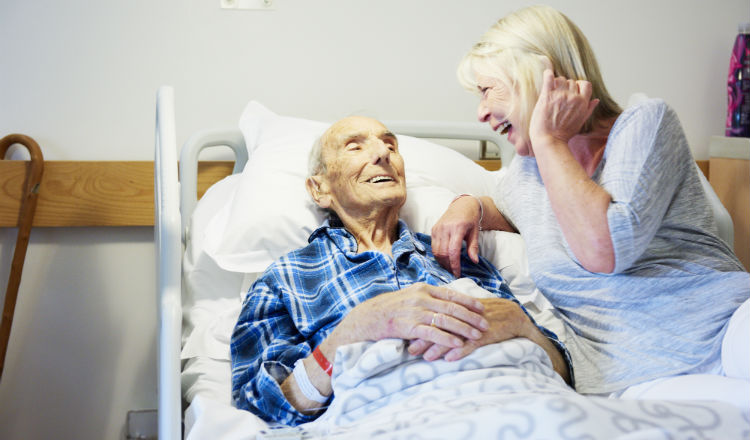 "Mum and Dad were married for 67 years. They'd met when Dad was in the army and Mum was in the Auxiliary Territorial Service. They were very happy.
Mum had Parkinson's and Dad had been her main carer for 10 years. During that time, he was diagnosed with inoperable stomach cancer. The last two years of Mum's life were very tough on him. When she died, he just fell apart at the seams.
Watching Dad disappear
Mum's funeral was on the Tuesday, and by Thursday Dad wasn't getting out of bed. He stopped eating. We called the doctor out who said, 'he's going'. By Friday, I just couldn't cope. We'd just buried Mum and now we were being told Dad was about to die.
We were put in touch with Marie Curie. A nurse came to look after Dad at home, and we were told there would be a bed available for him at the Marie Curie Hospice on Monday. We didn't know if he'd make it that long – on the Saturday night our nurse asked if we wanted to say goodbye because he was so ill – but he hung on.
The will to live
Dad hadn't eaten properly for days, hadn't drunk anything in 36 hours. My brother and I just sat outside his hospice room and thought, 'this is it'. Then we went in and there he was, sitting up in bed, eating jelly and custard!
Dad stayed in the hospice for two weeks. They got him eating and drinking again. They gave him the will to live.
We wish we'd known
It was all so different for our mum. She developed pneumonia and was taken to hospital. She was there for eight weeks and died there. Dad saw her every day.
It was awful – sometimes we would go in and she hadn't even had a drink. I saw her covered in urine because no one had taken her to the toilet.
It's hard as we now know that Mum could have got the care that Dad received. We didn't know that Marie Curie is there for everyone, any terminal illness, not just people with cancer. The contrast between Mum's death and Dad's is just huge.
Dad's whiskey and soda
Dad was cared for until the end. After his initial stay in the hospice, they said he could come back as a day patient for 12 weeks. At first he wasn't sure. On his first day there, they asked what he wanted to drink and he said 'I'll have a whiskey and soda' – I think he was just joking but the nurse said 'you can have whatever you want.' He was so pleased. It was a little bit of who he'd always been.
A few weeks in, Dad was worried he wouldn't get another spot once his 12 weeks were up! He said, 'if I can't go back as a patient, I will volunteer.' That's how much it meant to him.
New experiences and great care
Dad got himself a new car – an automatic – so he could drive himself to the hospice every week. He learned to paint there and loved it. It's not something he had ever done before – it took his mind off things. One of his paintings was included in an exhibition in Bradford Cathedral.
On Tuesdays, he had physiotherapy in the morning as he had trouble walking because he'd stiffened up. Dad said the physio put music on and they got him going again! He was there until 4pm. He'd always have a lovely hot lunch, and could speak to the nurses and be checked over. If he asked to see a doctor, that was no problem. It gave me a break too.
A beautiful end to Dad's life
I knew Dad wanted to die in the hospice, but I think he wanted to come home one final time to say goodbye to the house. A team from the hospice supported us to make it happen. I don't think I could have done it without them.
Dad died on 8 August 2016, at the hospice, like he wanted. It was beautiful. He was beneath clean white sheets, in his clean pyjamas and it was all so peaceful.
I can't put into words how much the hospice helped Dad. One of my favourite memories is of him in his room having a drop of whiskey with his grandsons. I have a photo of it and it's lovely."