"You aren't defined by your illness – you're still the person you were before"
Sally Knott has been a nurse for more than 10 years, and works at the Marie Curie Hospice, Bradford. She explains how she helps people and their families be themselves, right until the end.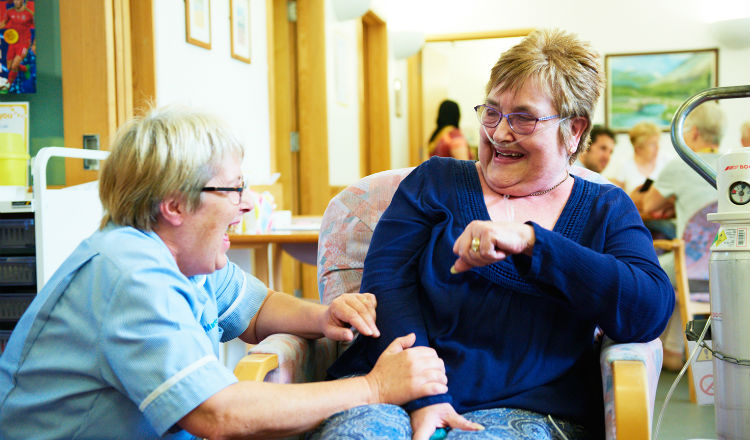 "We like to see people as a whole. They're not defined by their illness, they're still the person they were before. We just treat them as Fred, not 'Fred who's got lung cancer and has been told he's going to die within 12 months.'
Life at the hospice
"There's a lot of laughter, a lot of pleasure, a lot of teasing. There's a lot of friendship. Everybody is important here – the people we care for and the people who care about them, whoever they may be. Sometimes people are closer to their next door neighbour then they are to anybody else. We take that into account.
"We try to find out as much about the person and their life as we can, so we can understand who they are and what matters to them. If they're worried about something, we can listen."
Being there when we're needed most
"There was a lady who knew she was dying and her son couldn't get here because of a train strike. She was really upset so I said to her, 'what is it you want to say to him? Pretend I'm him and tell me.'
"In the end, the lady's son got there in time, but she knew that if he hadn't, I would tell him exactly what it was she wanted him to know. That gave her so much confidence."
Helping even when it's hard
"Sometimes the person wants to talk about what's going to happen after they die, but the family isn't ready. We can help them talk to each other. Other times, we're there to make sure someone knows what they wanted for the funeral, what hymns they wanted, or the things they wanted to tell people but couldn't.
"That isn't always easy. I remember reading out a letter to a family from a man who had died. His daughter hadn't wanted to talk to him before he died so he wrote it down. It was the most difficult thing I have ever done, but I did it. She was crying, I was crying, but I promised him I'd do it so I did it."
My motivation
"I feel that I'm in a massively privileged position to be able to help people at the end of their lives, to be there with them and the people who love them. That's why I do the job."