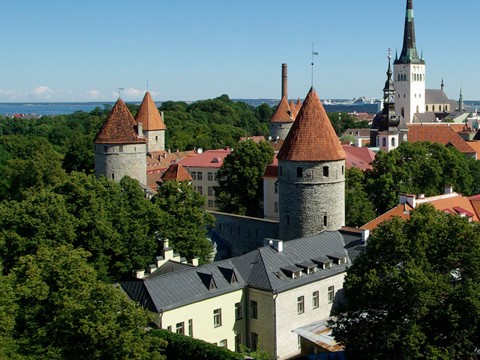 –

2018

Starting in Latvia and finishing in Estonia, this unique challenge links two beautiful capital cities in Eastern Europe. From the renowned art nouveau district of old Riga we follow the Baltic coastline all the way to the Gothic old town of Talinn, taking in picturesque villages and stunning landscapes along the way.
Day 1
London – Riga
Travel to Latvia
Your adventure begins on day one! We fly to Riga from London and transfer to our hotel.
The afternoon will be spent bike fitting and preparing for our challenge ahead of us. If time permits, we'll have an optional tour of the town. We stay overnight in Riga.
Day 2
Riga – Cesis
Cycle 75 miles
On day two we start the challenge today through beautiful glacial hilocks and ponds. We cycle through Sigulda and the stunning Gauja National Park to Cesis, famous for its 13th century castle of the Order of Knights.
Day 3
Cesis – Valka (Latvia)/Valga (Estonia)
Cycle 62 miles
Day three is our last day in Latvia as we head north passing through forests and meadows in the ancient valley of the Gauja River.
We finish today in the unique twin town of Valka and Valga, divided between Latvia and Estonia and known by a different name by each country.
Day 4
Valka/Valga - Parnu
Cycle 75 miles
We leave Valka/Valga on the morning of day four. We cycle west to the Gulf of Riga, through the town of Staicele, along the Salaca River.
We reach Ainazi and cross the border here into Estonia. Our route takes us through fishermen's villages onto Parnu where you'll spend a well deserved night.
Day 5
Parnu - Haapsalu
Cycle 68 miles
On day five we continue in a westerly direction today along the Matsalu Nature Reserve, a wetland and major water bird habitat.
This is an intriguing region of Estonia with coastal vistas and islands. We stay in Haapsalu for the night.
Days 6 - 8
Haapsalu – Talinn – London
Cycle 50 miles, travel home
Day six is the final day of cycling. We visit Keila-Joa, a small village on the high coastal cliffs. Here we have time to explore the beautiful cascading waterfall before we get back on the bikes for the final stretch to Tallinn.
You'll have a free day on day seven to explore Talinn, the captial of Estonia. What better way to recover from your 335 mile adventure?
Day eight is the final day. We bid farefell to Estonia as we jump on our flight home back to London.