Tommy Godwin Challenge FAQs
Have a burning question about your upcoming event? These FAQs should cover everything you need to know. If there's something we haven't answered please feel free to get in touch ― at team@mariecurie.org.uk or on 0845 052 4184.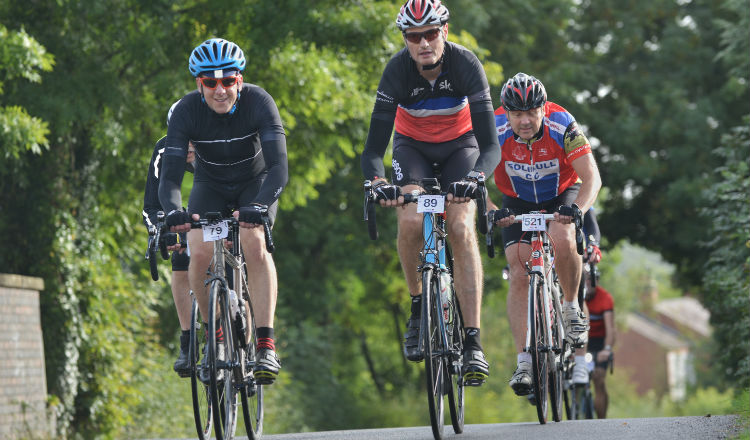 Event date
This sportive is being held on the 24 September 2017.
What if I become injured or need to cancel my place?
Please contact the event organisers here.
When will I receive my official race day information?
All information will be posted on the event organiser's website, so do keep an eye on the website as this is where you'll find the most up-to-date information. Final instructions will be emailed to you in the lead up to the event.
When will I receive my race number and timing chip?
You'll need to collect your rider pack from the registration at the Marie Curie Hospice on Sunday morning; registration will open at 8:30. We advise that you arrive an hour early so you are able to get your pack in good time.
Will the roads be closed?
No, but the route is always planned to go quiet and less used roads.
What's in my pack?
Event number — must be displayed on your back during the event.
Timing chip
Stickers for the front of your bike
What happens during registration?
During the registration process, you'll be required to show a form of photo identification in order to receive your event pack.
When does the race start?
The 100k and 70k Sportive starts at 09:30 and the 30k Family ride at 10:30. If you wish to ride with a friend, simply line up you'll receive your start time and final instructions magazine a few weeks before the event date.
Where will I finish the event?
All routes start and finish at the same place, Marie Curie hospice. So you can leave your car and along belongs at the start.
Marie Curie Hospice, Marsh Lane, Solihull, B91 2PQ
How do I get my hands on some Endura Team Marie Curie Kit?
We would love everyone to be in Team Marie Curie kit. If you raise £350 we will reward you with a jersey and if you reach £500 you will get the matching bib shorts too. Please do let us know when you have reached these targets so we can mail these out to you.
What will I receive as part of Team Marie Curie for the Tommy Godwin Challenge?
As part of the team you'll receive:
Cycling Zone with training plans, tips and advice
Regular e-newsletters with fundraising support and advice to help you smash your target
On-the-day support from our team
An Endura Marie Curie cycling jersey when you raise £350 and the matching bib shorts when you reach £500
On-hand support from our fundraising team
Post-race reception, with a hero's welcome, and food
General event information
What's the event all about?
The Tommy Godwin Challenge sportive was set up in 2013 to honour the memory of 1948 Olympic cycling medallist Tommy Godwin.
All profits go to fund the West Midlands Marie Curie Hospice in Solihull where Tommy spent his last few days.
In four years we have raised over £40,000 through entry fees, donations and personal fundraising by participants.
How far is the event?
In 2017 we are introducing a 70km route to go with the 100km and 30km routes and chip timing for the 70km and 100km events.

See the video of the 2014 event and 100km photos and 30km photos from 2016.
What's the age limit?
There is no lower limit age, but if the rider is under 16 they must be accompanied by an adult. Riders under 18 must have a letter of consent from a parent or guardian.
What if I need to update my personal details?
Please email the event organisers with your name, date of birth, telephone number, old address and new address. Your address details will then be changed in our system and a confirmation will be emailed to you when this has been done.
What should I do about travel and accommodation?
The Tommy Godwin Challenge is help on open roads, but the Velo Birmingham is taking place on the same day, which is held on closed roads.
Please plan your journey a head of time taking into consideration there might be some roads closed on your journey.
What if I become injured or need to cancel my place?
Please contact our supporter relations team at team@mariecurie.org.uk or on 0845 052 4184, as well as the event organisers at info@cycleni.com.