Kiltwalk FAQs
Have a burning question about your upcoming event? These FAQs should cover everything you need to know. If there's something we haven't answered please feel free to get in touch at events@mariecurie.org.uk or on 0845 052 4184.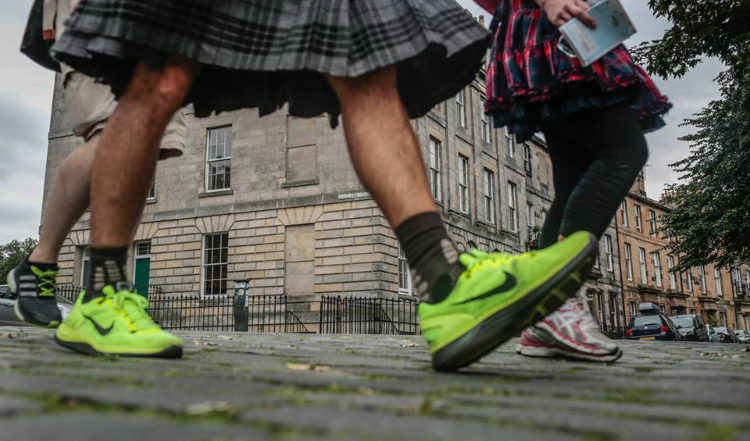 What is the event date?
Aberdeen Kiltwalk - 4th June 2017
What if I become injured or need to cancel my place?
As well as getting in touch with the team at Kiltwalk contactus@thekiltwalk.co.uk, please let our supporter relations team know at events@mariecurie.org.uk or on 0845 052 4184.
What's the age limit?
Mighty Stride – Restricted to participants aged 13 and above
Big Stroll – Restricted to participants aged 10 and above

Wee Wander – Restricted to participants aged 5 and above
Any person under the age of 16 wishing to participate in the event must be accompanied by an adult and obtain the written consent of their parent or legal guardian in the form provided by the Kiltwalk for participation in the event and provide the Kiltwalk with a copy of such consent along with their registration form.
When will I receive my official race day information and race number?
You will receive your walker pack anytime between 2 to 6 weeks out from the start of the event. If you have not received your pack one week prior to the event, please contact Kiltwalk by emailing contactus@thekiltwalk.co.uk.
Where do I start the race?
The three different Kilt walks begin at the following locations:
Mighty Stride: Duthie Park.
Big Stroll: Drumoak Playing Fields.
Wee Wander: King George V Park.
Where do I finish the race?
Aberdeen Kiltwalk - Potarch Green, AB31 4BD
Will there be a bag drop service available on the day?
Yes. The Kiltwalk will run a service for all walkers that will transport cloakroom items from your start venue to the Information Point at the Kiltwalk Village (end site) where you can collect it once you have completed the event. You will be issued with a luggage tag. Please make sure to keep it safe!
What will I receive as part of Team Marie Curie?
As part of the team you'll receive:
access to our Walkers' Zone with tips and advice
emails with fundraising support and advice to help you smash your target
on-the-day support from our dedicated events team
fundraising pack including a Marie Curie Tshirt
on-hand support from our fundraising team
Where will Marie Curie be on the day?
More information about our cheer points and will be sent to you closer to the event.
If I still have more questions, where can I go?
More FAQs can be found on the Kiltwalk website or contact Kiltwalk via their email contactus@thekiltwalk.co.uk or phone 0141 611 7919.