Walk Ten Northern Ireland
Information
Event type

UK treks and walks

Date

Distance

10km

Registration fee

£10

Minimum age

Under 16s must be accompanied by an adult

Contact

Location

Stormont Estate
Belfast
Antrim
BT4 3TA


Venue facilities

Parking available

No wheelchair access

Dogs on leads allowed

Pushchair friendly

Catering/refreshments available

Live music/entertainment

Firework display

Toilets available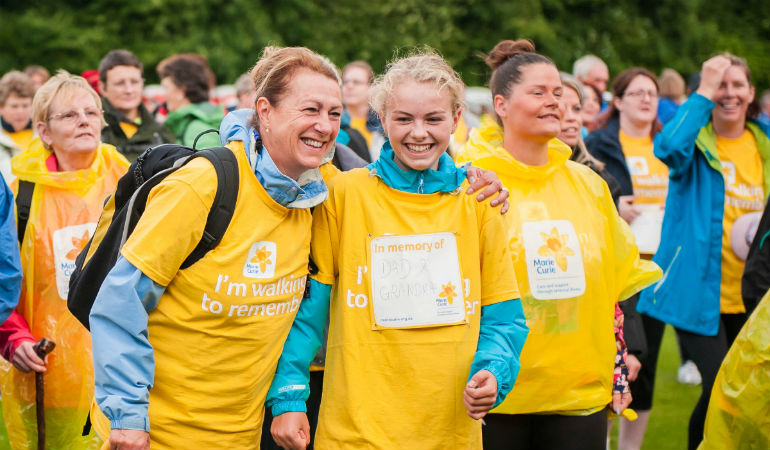 Join us for a twilight 10k walk in the grounds of Stormont Estate in Belfast on Friday 1 September.
After your walk enjoy the festival atmosphere, music and entertainment and a firework finish. Come along with your family and friends and raise money to help people living with a terminal illness in Northern Ireland.
Why Walk Ten Northern Ireland?
Marie Curie Helper volunteer Lisa Perry is encouraging everyone to join in with Walk Ten 2017. She, and her daughter Caithlan, both took part last year in memory of Lisa's Father, Caithlan's Grandfather, Jimmy, who died of cancer over 20 years ago. They both really enjoyed taking part last year and are joining in again this year.

Lisa said "Walk Ten was a great event, a beautiful walk in great surroundings with so many people supporting Marie Curie. We found the end very emotional - listening to the nurse speak and watching the fireworks. We are really looking forward to getting involved again this year".

Lisa has volunteered for Marie Curie for over 2 years now, a role which she absolutely loves. The Marie Curie Helper service reaches out to patients at the point of diagnosis to provide help, support and companionship.
How much is it to register?
Adults: £10 (£20 on the night)
Children (16 and under) go free
Walk Ten Northern Ireland frequently asked questions
Fundraising for Walk Ten
How can I fundraise online?
Setting up an online fundraising page is quick, easy and a hassle-free way of raising money. To set up your page, go to The Walk Ten JustGiving page, set up your personal sponsorship page. Once your page is complete you can send the link to your family, friends and colleagues. You can also download the JustGiving app
to keep track of all your donations on the go.
How can I get a sponsorship form?
You will receive your sponsorship form in your welcome pack. If you would like one sooner please contact the Walk Ten team on 028 9088 2060 or by emailing walktenNI@mariecurie.org.uk.
Can I just pay the registration fee and not raise any money?
The registration fee only contributes towards the running and administrative costs of the event, and does not go towards providing our services. The sponsorship money you raise will help your local Marie Curie Nurses provide more free care to people living with terminal illnesses in their own homes. We therefore have a recommended fundraising target of £100 per participant, which will pay for five hours of care.
How can I pay in any money I raise?
You can pay your fundraising and sponsorship money in a way that is convenient for you: either online via JustGiving, by post or by phone. We cannot process money on the day of the walk so please do not bring sponsorship money to the event.
Online via JustGiving
If you have created a JustGiving page for Walk Ten then you can pay your money in online. Visit JustGiving for details.
By post
Send your sponsor forms and cheque or CAF voucher made payable to Marie Curie to:
Walk Ten Team, Marie Curie
60 Knock Road
Belfast
BT5 6LQ.
Please do not send cash in the post.

By phone
You can make a credit or debit card payment by phone on 028 9088 2060.
How can I make a donation?
Please send your donations to:
Walk Ten Team, Marie Curie
60 Knock Road
Belfast
BT5 6LQ.
All cheques and charity vouchers should be made out to "Marie Curie". Please do not send cash in the post. If you would like to make a donation by credit or debit card, please call the Walk Ten Team on 028 9088 2060.
Walk Ten event information
How far is the walk?
10 km/6 miles, which on average takes 2-3 hours to walk.
Does the walk start and end at the same place?
Yes. The route is circular so you will start and finish in the same area. We encourage you to bring a picnic to enjoy in the event arena afterwards, where there will be entertainment and fireworks at 10pm, which coincides with the time many Marie Curie Nurses begin their night shift.
Can I buy food at the event?
We encourage everyone to bring their own picnics to enjoy after the walk. There will be a selection of food stalls for you to choose from on the night. They will all be cash only.
I have friends/family who are unable to participate in the walk – are they allowed to join me to celebrate after I've completed the walk?
Yes, your friends/family are welcome to join you at the end of the walk.
Do I have to complete the whole 10km route or is there a shorter option?
Walk Ten is a 10km walk, and the challenge for participants is to cover the entire distance. There will be a point approximately half way round that you will be able to retire early. We reserve the right to enforce a cut off and not allow participants to complete the second lap if they have not reached it by a certain time.
What time does the walk start and finish?
The event will be open from 6.00pm. The walk will start at 7pm.
What happens if the weather is bad?
We constantly monitor the weather forecast in the lead up to and throughout the day of the event so that if the weather is particularly bad, we can amend the walking route. Please dress appropriately and wear sensible footwear.

A Walk Ten event would only be cancelled in the case of very extreme weather. If an event were cancelled all participants would be contacted via phone and email, and an announcement would go out on Marie Curie's social media channels.
Can I wear fancy dress?
Yes! We want you to make the event as fun as possible – fancy dress is positively encouraged!
Can I run the route?
No. Walk Ten is not a race and has only been designed for walking, so we ask all participants to walk the route.
How will we finish the walk if it gets dark?
All participants must bring a torch with them. The route is assessed for safety and where it is especially dark extra lighting will be provided. Marshals along the route will also have torches.
Where should I park my car?
There is free onsite parking at Walk Ten, Northern Ireland. However we encourage you to take public transport and car share wherever possible. The parking entrance will be on Stoney Road.
Can I volunteer at Walk Ten?
Yes. We have a number of volunteer roles at Walk Ten from marshalling the route to registering participants. Please email event.delivery@mariecurie.org.uk for more information.
Can I bring my dog?
Dogs are welcome but they must be kept on a lead at all times.
Please be aware that there have been known instances of Seasonal Canine Illness in clusters across the UK. It has generally been seen between August and November. If owners are concerned or would like to know more, please go the Animal Health Trust's website for further information.
How do I access photos after the event?
We will have a photographer at Walk Ten Northern Ireland. A selection of these photos will be added to the website as soon as possible – check back here to find out when the photos are live.
Can I get a map of the route before the day?
No, we do not give out maps of the route as we may need to revise the walking route on the day, for example due to inclement weather. The walk will be fully signed, marshalled, and there will be lead and back walkers to ensure everyone gets round the 10km course.
Is there a cut off time to complete the walk?
Yes, all walkers must have finished the walk by 10pm.