Sarah's story
Marie Curie designer Sarah Feasey decided to take on the London to Brighton challenge along with a friend, Ashleigh Heath.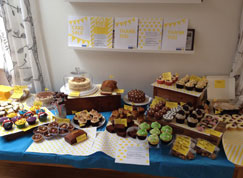 "My husband completed the London to Brighton last year. After keeping him company on his many training walks, I thought that if he ever did it again, I would as well. He forgot all about his aching legs and we got a group together to do it as a team this year.
"I have supported and worked at Marie Curie for a number of years and seen others do fundraising; I wanted to see if I could meet my target too. The thought that this money is going to help more patients and families is my motivation. I've found the fundraising easier than I first thought; when we explain what the charity does and just how far we are walking, we have found people to be very generous in their sponsorship.
"Baking has, by far, been my most successful fundraising activity. I have been baking Friday treats for the office every week, selling biscuits and cakes for just 25p each, and have regularly got £10-15 a week. Now I have got people hooked on a sweet treat every Friday and they sell out quick.
"We also held a bake sale at my house, inviting friends, family, neighbours over and made £345! It was hard work, but good fun too.
"There is so much training we have had to do. However, the more money we raise, the more motivated we feel to walk, knowing that so many people are supporting us and Marie Curie."