Costa Rica trek for Marie Curie Scotland 2017 - SOLD OUT
Information
Date

–


Minimum fundraising

£3,650

Registration fee

£250

Minimum age

You must be 18 years old to register for this event.

Contact

Location

Costa Rica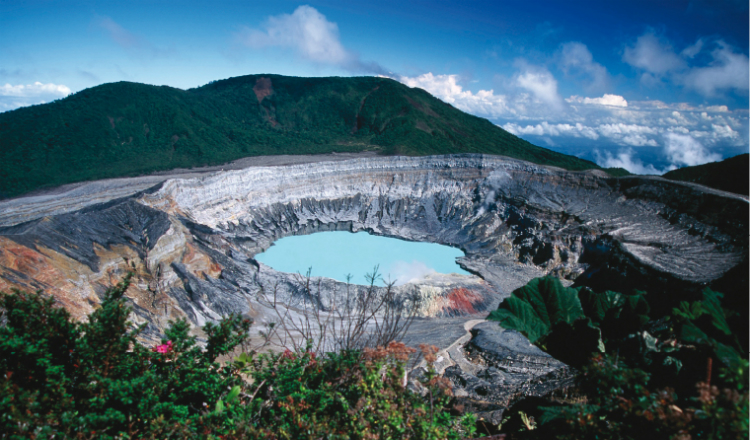 Discover the volcanoes of Costa Rica on this epic nine day trip with six days of trekking.
With day treks on Irazu, Poas, Arenal and Cerro Chato, this adventure will take you up close to the craters, unique flora and fauna and pristine rainforests that surround these natural phenomena.
Trek through stunning rainforest, see exotic wildlife and experience the Arenal canopy walk. This is both a physical challenge and an opportunity to explore an incredible country.
Why trek with Marie Curie?
By taking on this once in a lifetime challenge for Marie Curie you will help us care for more people living with a terminal illness. When you join us you will benefit from:
Training guides, hints and tips to get you ready for the big challenge
Lots of fundraising ideas in your welcome pack. If you're keen to get started with your fundraising right away, check out some of these ideas.
Access to a local community fundraiser who will advise you and help you smash your target
Two Marie Curie representatives who will trek the entire journey, join you on a training day and organise a post-trek reunion
A brightly coloured Marie Curie Overseas T-Shirt
Access to a Facebook Group just for your trek, so you can chat with your fellow trekkers beforehand
A 15% discount at Cotswold Outdoors
World Expeditions
This challenge is organised through World Expeditions. World Expeditions has been pioneering trips since 1975. Their itineraries give you the best travel experience, designed by people with incredible local knowledge who share a vision of authentic exchange and real exploration with a responsible tourism approach.
Frequently asked questions
Do I need to sign up online?
Signing up online is quick and easy to do and it saves us vital money to put towards supporting people living with a terminal illness. If you are not able to sign up right now and would like a paper form, please call us on 0800 716 146 or why not save this page to your favourites so you can sign up online later?
Who can take part?
You must be 18 years old or over to take part. The group size will be around 30-40, including people of all ages and from all backgrounds. Most will be on their own, but some will go with friends, partners or relatives.
How fit do I have to be?
This is a very strenuous challenge and you will need to train hard to succeed. All our challenges are designed to suit people who are fit and have trained to take part – the fitter you are, the more you will enjoy the adventure.
Will I need specialist kit?
We will send you a recommended packing list in your welcome pack which will detail any specialist equipment you may need.
What is not included in the package?
Registration fee
Recommended vaccinations
Tips and gratuities
Travel insurance
Personal spending money
Single room upgrade
What food and drink will there be?
Clean water is provided throughout the trip.
All meals are provided on the challenge and will include lots of carbohydrates such as pasta and potatoes, along with cereals, bread, fresh fruit, vegetables and eggs, plus some meat. There will be vegetarian options at every meal. Feel free to bring a few of your favourite snacks too. Please let us know in advance about any special dietary requirements.
What about vaccinations?
Typhoid and hepatitis A vaccinations are advisable, and tetanus and polio vaccinations should be up to date. We recommend you seek professional medical advice from your GP to ensure your vaccinations are up to date.
How will I be supported?
Beforehand: You will be sent a fundraising pack with great tips on how to meet your sponsorship target. We will be in touch regularly and will organise a briefing day where you'll meet other participants and hear more about the challenge.
During the trip: Your group will be accompanied by a qualified medic and trek leader, as well as a Marie Curie representative. Local guides will escort the group along the route. Your luggage is transported by vehicle to each night's accommodation.
Can I cover the cost of the trip myself?
We ask you to raise a minimum of £3,650. After tour operating costs, a minimum of £2,075* will go directly to Marie Curie, as well as anything you raise over the minimum sponsorship. if you would like to pay for the tour operating costs yourself, please contact us on 0800 716 146 for further information.
What will the weather be like?
There are several distinct climatic zones in Costa Rica and as it is a tropical country there is no winter or summer. Because of the changes in altitude, coastal temperatures can reach 28-32ºC (82- 89ºF). Mountain regions can be considerably cooler, with temperatures dropping to as low as 5ºC (40ºF) at the highest point of the trip.
What's the accommodation like?
Good quality hotel accommodation throughout on twin share basis.
Passports and visas
Participants should have at least six months' validity on their passports from the date of return to the UK. No visas are required for British passport holders; other nationalities are advised to check with their embassies or consulates.
Can I extend my stay?
Anyone wanting to stay on after the trek can arrange to do so through The Ultimate Travel Company at a cost and subject to availability.
How can I help limit the environmental impact of travelling abroad for this trek?
Marie Curie is committed to responsible tourism. This challenge is organised by our tour operator, World Expeditions, which will provide guidelines on responsible tourism. They offer a carbon offset scheme for anyone who wishes to offset their flights.
What are the deadlines for my sponsorship money?
We require the 80% minimum of £2,920 by 1 September 2017. The remainder of the sponsorship is due 4 weeks after you return from the event.
Further Questions
If you have any further questions please call the events team on 0800 716 146 or email events@mariecurie.org.uk.
Itinerary
Itinerary
Day 1
Depart the UK – arrive San José
We depart the UK and fly to San José, Costa Rica. On arrival we will transfer to the centrally located hotel and, depending on available time, relax and explore the sights of San José. In the evening we will meet the guide and have a trip briefing.
Day 2
Irazú Volcano to Prusia Forest Reserve – 5-6 hours' trekking
After breakfast at the hotel we will transfer to Irazú Volcano for our first day's trekking. Irazú Volcano is still active; it last made international headlines when it erupted in 1963, on the day that US President John F. Kennedy visited the country. The eruption decimated crops in the area, but left the soil enriched for decades to come. We will spend the day trekking through stunning rainforests, visiting some of the craters and continuing along the trail until we arrive at Prussia Forest Reserve where we will meet the vehicle and transfer back to our hotel in San José.
Day 3
Poás Volcano National Park and Laguna de Hule hike – 5 hours' trekking
Today we will trek in Poás National Park, viewing the stunning crater and lake, said to be one of the most beautiful in Costa Rica. Keep an eye out for the wide variety of birds found here. After a short transfer we will trek the picturesque Laguna de Hule trail before a late afternoon transfer back to San José.
Day 4
Arenal Volcano – f 5-6 hours' trekking
After checking out of our hotel and breakfast we will transfer to the Arenal Volcano area, blessed with surrounding natural beauty, including the imposing volcano itself and the amazing Lake Arenal. Today we hike high above the treetops, across a system of suspension bridges on a dedicated canopy walk trail, allowing us to observe the rainforest at its best. Tonight we stay in a hotel in the Arenal area.
Day 5
Cerro Chato climb – 5-6 hours' trekking
Cerro Chato is a dormant volcano that flanks the south-east side of the Arenal Volcano. It has been inactive for around 3,500 years and rests at an elevation of 3,740 ft (1,140 m). We will start from the west side up the mountain, and walk towards the crater lake up on the summit. After enjoying the panoramic views, we will descend the east side of the mountain to La Fortuna Waterfall, before continuing back to the hotel.
Day 6
Arenal to Rincón de la Vieja Volcano – 4-6 hours' trekking
Saying farewell to Arenal, we transfer to Rincón de la Vieja Volcano, following the circuit that treks to Chorreras Waterfall. Here you can choose to either spend some time swimming and enjoying the surrounding rainforest or undertake an optional canyon canopy tour complete with zip lines and Tarzan swings. Tonight we will stay in a local hacienda in Rincón de la Vieja.
Day 7
Las Pailas Trail to La Cangreja Waterfall – 7 hours' trekking
Our final day of trekking will see us head deep into the forest following the Pailas trail, until we reach the mighty Cangreja Waterfall. Once there, we can cool off in the refreshing water and take in the jungle scenery around us. We will then walk to our vehicles and transfer to Hermosa Beach to celebrate the completion of the trek.
Day 8
Depart San José
After breakfast we check out of our hotel and transfer to Juan Santamaría International Airport in San José for our overnight flight back to London, arriving the following day.
Calls to 0845 numbers cost no more than 7p per minute plus your phone company's access charge.