Great Wall of China Trek 2017
Information
Event type

Overseas

Date

–


Minimum fundraising

£3,300

Registration fee

£299

Minimum age

You must be 18 years old to register for this event.

Contact

Location

Great Wall of China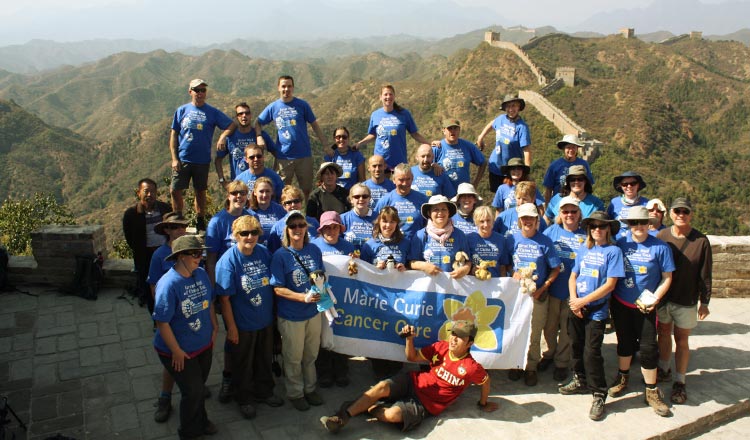 Join us in Beijing for a trip of a lifetime, trekking along the Great Wall of China in support of our Marie Curie Nurses.
The Great Wall of China Trek is a nine-day trip with five days' trekking. Trek the 15th Century Ming Dynasty hardrock wall, before descending on local trails to experience the rural life of people in the Hebei Province.
The challenge finishes with a day to explore bustling Beijing, a visit to Tiannemen Square and the Forbidden City as well as a shopping experience in the silk market.
Sorry, online registration is no longer available for this event. Please contact us on events@mariecurie.org.uk or call us on 0845 052 4184.
Why trek with Marie Curie?
By taking on this once in a lifetime challenge for Marie Curie you will help us care for more people living with a terminal illness. When you join us you will benefit from:
Training guides, hints and tips to get you ready for the big challenge
Lots of fundraising ideas in your welcome pack. If you're keen to get started with your fundraising right away, check out some of these ideas.
Access to a local community fundraiser who will advise you and help you smash your target
Two Marie Curie representatives who will trek the entire journey, join you on a training day and organise a post-trek reunion
A brightly coloured Marie Curie Overseas T-Shirt
Access to a Facebook Group just for your trek, so you can chat with your fellow trekkers beforehand
A 15% discount at Cotswold Outdoors
Itinerary
Here's what you'll be doing on the trek:
Day 1:
Depart UK to Beijing, China
Depart London on an overnight flight to Beijing.
Day 2:
Arrive in Beijing
Upon arriving in Beijing, we are transferred to Miyun County for 2 nights at a local hostel.
Day 3:
Black Dragon Pool Park, 5-7hrs trekking
Today we will trek across remote scenery, through gorges with waterfalls and pools. After lunch we then follow a section of the Wild Wall.
The trek is steep in places and tough going, but with stunning scenery, a temple in the sky and parts of the Great Wall not seen by man since the Mongols!
Day 4:
Gubeikou Great Wall, 5-7hrs trekking
After a short transfer to the village of Gubeikou, we depart in the direction of Jinshanling. We will see the stunning scenery of the Wild Wall. This territory is remote, lonely, unspoilt and overgrown in places. This is the true highpoint of the trek.
Tonight we stay at Jinshanling Lodge.
Day 5:
Jinshanling Great Wall, 4-5hrs trekking
Today we have a very challenging trek along the Jinshanling Great Wall, it is quite steep in places with loose rocks and uneven steps. But it is one of the best preserved and unusual parts of the wall and dates back to the Ming Dynasty.
At Simitai Great Wall we retrace our steps, before transferring to a local hostel in Hairou County.
Day 6:
Mutianyu Great Wall, 3-5hrs trekking
This morning we continue to Mutianyu, here we will see the local farming communities at work, before trekking the steep ascent up to Heavenly Ladder to enjoy stunning views. Those who want to do more of trekking today may have the option of a circular trek on the Wall of Juyongguan. We stay overnight at the Juyongguan Hotel.
Day 7:
Badaling Great Wall – Beijing, 5-6hrs trekking
The first part of today's trekking is demanding as most parts of the Badaling Wall are un-renovated and have been well worn over the centuries. But the splendid views are well worth our efforts, finishing with a challenging descent.
We travel to Beijing to celebrate our achievements with a special Beijing Roast Duck Dinner.
Day 8:
Free day in Beijing
Today we will reward ourselves with a guided tour of downtown Beijing. We will explore the Old Imperial Palace known as the Forbidden City, and also the Temple of Heaven. You will also have the chance to do some last-minute shopping at some of the local markets.
Day 9:
Depart Beijing
Transfer to airport for departure. Arrive in London on the same day
Frequently asked questions
Do I need to sign up online?
Signing up online is quick and easy to do and it saves us vital money to put towards supporting people living with a terminal illness. The registration form is also available to download and print. If you are not able to sign up right now, why not save this page to your favourites so you can sign up online later?
Who can take part?
Anyone over the age of 18 who is looking for a challenge is able to take part. The majority will be on their own, but some will go with friends, partners or relatives. This event will be tough and exhilarating, but it will be fantastically rewarding and is suitable for anyone with a bit of grit, determination and willingness to work as part of a team.
How fit do I have to be?
This trek is challenging. All our trekking challenges are designed to suit people who are fit and have trained to take part – the fitter you are the more you will enjoy the adventure. We walk approximately 12-18 kilometres (5-7 hours) per day.
Will I need specialist kit?
We will send you a recommended packing list in your welcome pack which will detail any specialist equipment you may need.
What is not included in the package?
Registration fee
Travel insurance
Recommended vaccinations
Tips and gratuities
Chinese visa £60 - £90
Personal spending money
What food and drink will there be?
All the water on the trek will be boiled and safe to drink. Breakfast will consist of cereals local breads and eggs. A typical lunch will include salads, cold meats, eggs, rice, bread and cheese with fruit and biscuits. In the evening there will be a hot meal, normally three courses, comprising soup, main meal and dessert. Please let us know in advance of any special dietary requirements and feel free to bring any of your favourite snacks.
What about vaccinations?
As a guide, typhoid, diptheria and hepatitis A vaccinations are advisable, and tetanus and polio vaccinations should be up to date. You are advised to seek professional medical advice from your GP.
How will I be supported?
Beforehand: You will be sent a fundraising pack with great tips on how to meet your sponsorship target. We will be in touch regularly and will organise a briefing day where you'll meet other trekkers and hear more about the challenge.
During the trip: Your group will be accompanied by a qualified doctor and trek leader, as well as a Marie Curie representative. Local guides will escort the group along the route. Your luggage will be transported to each night's camp.
Can I cover the cost of the trip myself?
We ask you to raise a minimum of £3,300.
A minimum of £2,149* will go directly to Marie Curie, as well as anything you raise over the minimum sponsorship. If you would like to pay for the trip yourself please contact us on 0845 052 4184 for further information.
What will the weather be like?
The weather should be mild and warm with the possibility of showers. The nights can be cold. The weather can change without warning so it's best to be prepared.
Passports and visas
Participants should have at least six months' validity on their passports from the date of return to the UK. Everyone travelling from the UK will require a Chinese tourist visa. We will send further details nearer the time.
Can I extend my stay?
Anyone wanting to stay on after the trek can arrange to do so through World Expeditions at an additional cost and subject to availability. Please note that you may need to buy a seperate visa if you are extending your trip.
Do overseas challenges damage the environment?
Marie Curie is committed to responsible tourism. This challenge is organised by our tour operator, The Ultimate Travel Company, which employs local staff and suppliers, creates minimal environmental impact and positively contributes to conservation, working with local environmental groups as well as bringing in revenue through tourism to remote areas of China.
What are the deadlines for my sponsorship money?
We require the 80% minimum of £3,300 (£2,640) by 17 February 2017. The remainder of the sponsorship is due 4 weeks after you return from the event.
Further questions
If you have any further questions please call the events team on 0845 052 4184 or email events@mariecurie.org.uk.
Calls to 0845 numbers cost no more than 7p per minute plus your phone company's access charge.