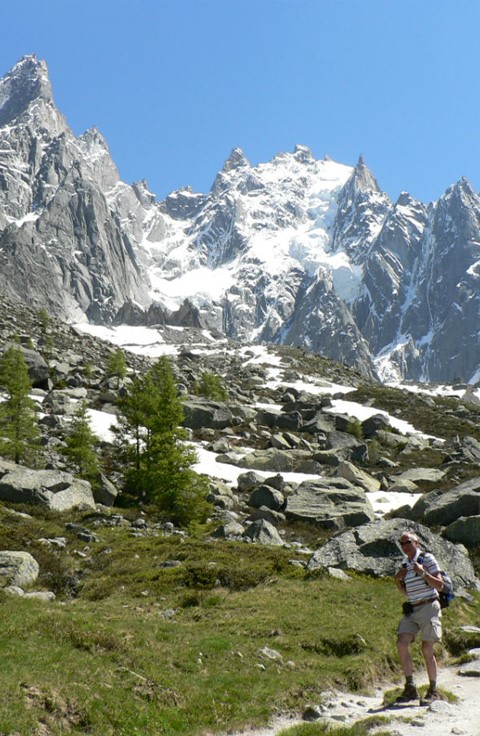 The Mont Blanc region boasts one of the world's most renowned trekking circuits, with some of the most awe-inspiring scenery imaginable - all within a short hop from the UK! We take in three countries in three days oftrekking as we circle the highest peak in Western Europe.
Day 1
London – Chamonix
This is when your adventure begins, meeting the group at the airport and flying to Geneva. You are transferred to the beautiful Alpine town, Chamonix, for our first night.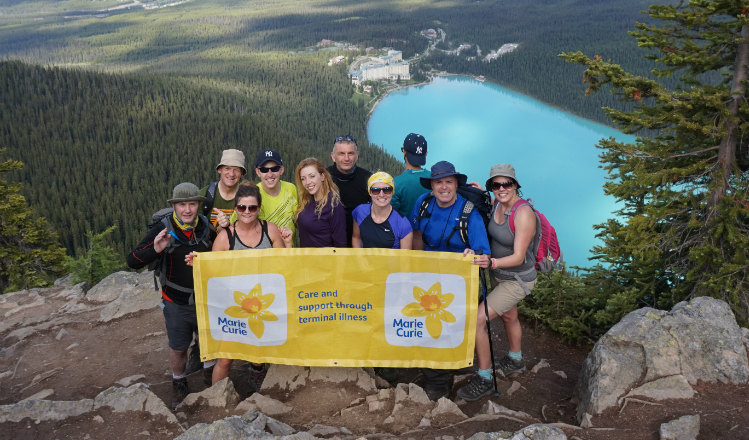 Day 2
Val Ferret – La Fouly
7 hours trekking
We transfer to our starting point the head of Val Ferret at 1770m. The path quickly rises above the tree line, and we reach the highest point of the day at the Grand Col Ferret at 2537m. This stunning mountain range is cut in sections by glacier, spilling with waterfalls to the valley bottom. From the Col, we have wonderful views down the valley towards the Italian village, Courmayeur, and onwards to the French border at Col de la Seigne.
We are now on the Swiss/Italian border, and descend to the pretty Swiss village of La Fouly.
Day 3
La Fouly – Champex
6.5 hours trekking
Today we follow the scenic Swiss part of the Val Ferret to Champex (1450m). Our route takes us along forested tracks, through open meadows, and traditional Swiss villages. The views from the Swiss Alps are spectular, and our day finishes in the picture-perfect village, Champex, nestled around a crystal clear lake.
Day 4
Champex – Col de la Forclaz
8 hours trekking
A tough day to finish your challenge - we climb directly up out of Champex to the Fenetre d'Arpette at 2665m. The Val d'Arpette was not so long ago buried under hunderds of metres of glacier, and the sharp rocky terrain is evidence of this. We then descend to Col de la Forclaz at 1526m, where we are transferred back to Chamonix to celebrate all of our achievments over the past 3 days.
Day 5
Geneva – UK
Today you will have a chance to bid farewell to our guides and the incredible Mont Blanc mountain, as we jump on our flight home back to London and the end of our adventure.
This itinerary is subject to change with any change in Community regulations as well as Governmental changes and natural circumstances beyond our control.
This itinerary is complex and subject to change.
Return flights

Local transfers

Accommodation

Tour leader

Medic

All meals
Distance

6-8 hours' trekking per day

Minimum fundraising

£2,200 – we'll help you with your fundraising every step of the way

Minimum age

You must be 18 years or older to register for this event

Fitness

To take on this challenge you'll need to be fit and have done some training.
How the money you raise helps
£180 pays for a Marie Curie Nurse to look after someone with a terminal illness overnight in their own home
£350 pays for five people to attend day therapy at a Marie Curie Hospice. They'll have access to emotional support and many different activities.
£400 pays for someone to stay in a Marie Curie Hospice for 24 hours, so they can recieve the care they need.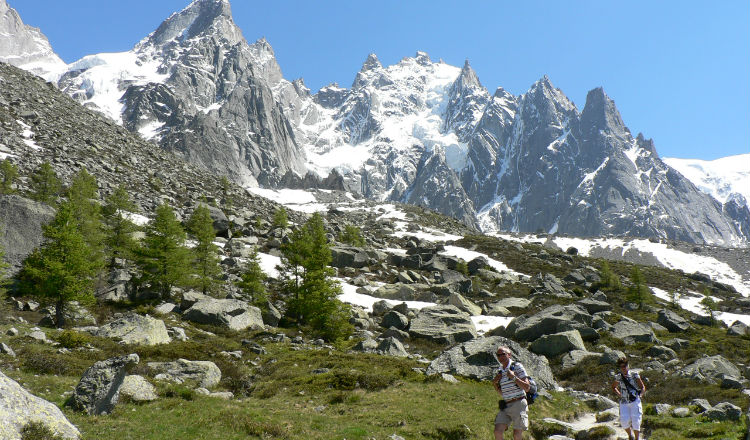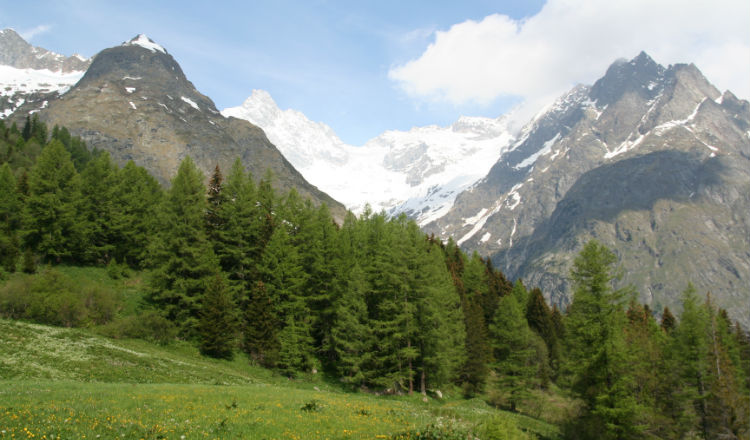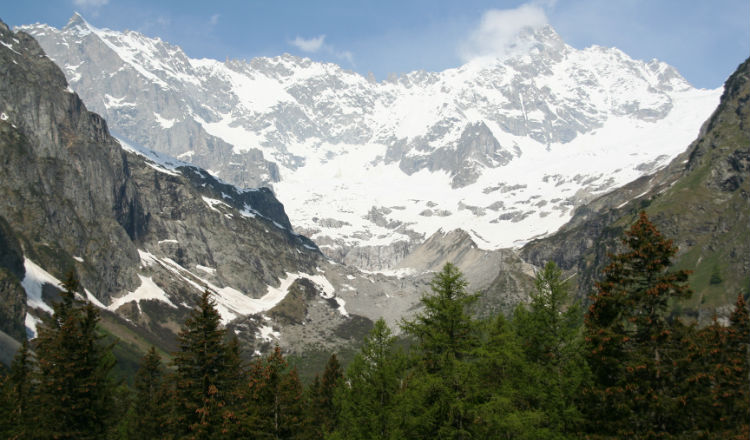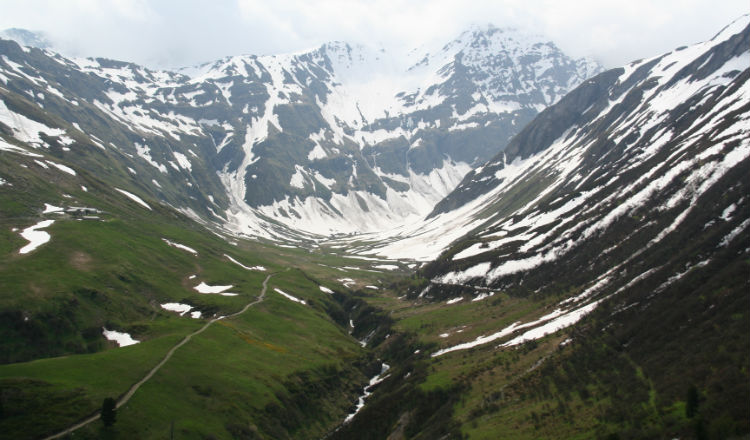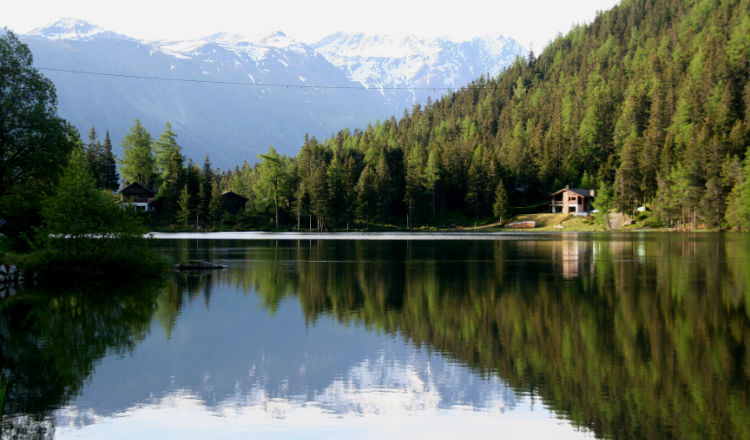 Register for the Mont Blanc Trek
See the snowy peaks and green valleys of the Alps for yourself this summer. Sign up for the challenge today to help us provide care and support for people living with a terminal illness.
Register now
Who can take part?

People over the age of 18 who are looking for a challenge are able to take part. The group size will be approximately 30-40 with people of all ages and from all backgrounds. The majority will be on their own, but some will go with friends, partners or relatives.

The event will be tough and exhilarating, but it will be fantastically rewarding and is suitable for anyone with a bit of grit, determination and willingness to work as part of a team.

How fit do I need to be?

All our trekking challenges are designed to suit people who are fit and have trained to take part - the fitter you are the more you will enjoy the adventure. We will walk approximately 12-14 kilometres per day (7-8 hours).

Will I need specialist kit?

We will send you a recommended packing list in your welcome pack which will detail any specialist equipment you may need.

What's not included?

- Registration fee
- Travel insurance
- Recommended vaccinations
- Tips and gratuities
- Visa
- Meals when not trekking

What will we eat and drink?

Breakfast: Will usually consist of coffee, tea, cereal, yoghurt, fresh fruit, bread, and conserves.

Lunch: Picnic style lunches will normally include bread, cold meat, cheese, sometimes boiled eggs or tinned fish, fresh salad vegetables and fresh fruit.

Evening meal: Will consist of a first course of soup, salad or charcuterie, a main course of meat with one or two vegetables or rice or pasta and a dessert course. Coffee and tea are included with the evening meal.

What about vaccinations?

Tetanus should be up to date and polio is recommended. This is a guide only, you should check with your GP for further advise. You may also check the NHS website 'Fit for Travel' for more information.

How will I be supported?

Beforehand: You will be sent a fundraising pack with great tips on how to meet your sponsorship target. We will be in touch regularly and will organise a briefing day where you'll meet other trekkers and hear more about the challenge.

During the trip: Your group will be accompanied by a doctor and trek leader, as well as a Marie Curie representative. Local guides will escort the group along the route. Your luggage will be transported by vehicle to each camp.

Can I cover the cost of the trip myself?

We ask you to raise a minimum of £2,200. A minimum of £1,051* will go directly to Marie Curie, as well as anything you raise over the minimum sponsorship. If you would like to pay for the trip yourself please contact us on 0800 716 146 for further information.

*Based on minimum participant numbers

What will the weather be like?

Participants should have at least six months' validity on their passports from the date of return to the UK. British passport holders do not currently require a visa, other nationalities should check with their embassies.

Passports and visas

Participants should have at least six months' validity on their passports from the date of return to the UK. Everyone travelling from the UK will require a tourist visa. We will send further details nearer the time.

Can I extend my stay?

Anyone wanting to stay on after the trek can arrange to do so through Discover Adventure at an additional cost and subject to availability.

How can I help limit the environmental impact of this trek?

Marie Curie is committed to responsible tourism. This challenge is organised by our tour operator, Discover Adventure, which will provide guidelines on responsible tourism. They offer a carbon offset scheme for anyone who wishes to offset their flights.

What are the deadlines for my sponsorship money?

We require the 80% minimum of £1,840 by 21 March 2018. The remainder of the sponsorship is due four weeks after you return from the event.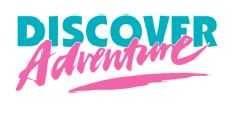 Discover Adventure
This challenge is organised through Discover Adventure. Made up of people who love the outdoors, Discover Challenge aims to create adventure challenges that enable people to achieve their ambitions. Their leaders are all professional, friendly and experienced at running challenging trips all over the world.